Indian Wedding bridal and groom outfits vary according to choice, culture and region. There's no single right answer or definitive direction here. But as per rich Indian history and culture, brides and grooms usually opt for something heavy and royal attires for wedding, sangeet and haldi rituals. Rajasthani brides and grooms tend to opt for various options when selecting attire for pre-wedding appearances as well.
It is the best time to explore trending wedding dresses and outfits for your wedding ceremony. These splendid combinations will help you narrow down your ideal attire for your wedding day.
Let's have a look at wedding dress ideas suitable for modern brides and grooms.
Wedding Dress Ideas and Styles for Brides in 2023
A-Line Wedding Dress
A-line dress is perfect for traditional and romantic celebrations alike. It flattens your figure and is suitable for any celebration. A-line wedding dresses come in almost every neckline and sleeve length you can imagine, from plunging V-necks to long lace sleeves and strapless sweetheart shapes. There are even trendy off-shoulder sleeve styles with minimal square necks for brides. Furthermore, this well-loved silhouette can be found across various price points. Definitely you will find an A-line gown is perfect for you.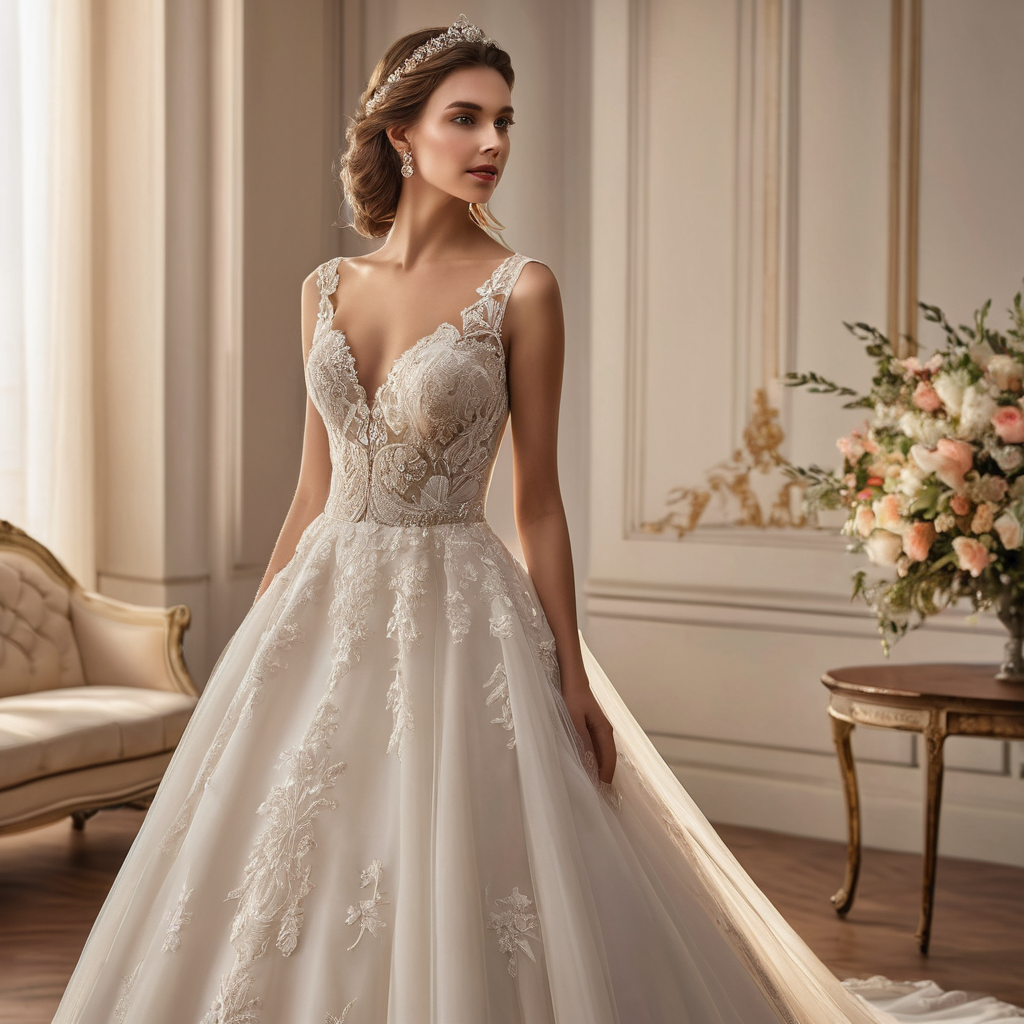 Ball Gown Wedding Dress
Ball Gown wedding dresses have long been associated with royalty or in fairytales. This style features an elegant fitted bodice that gently expands at the bust and natural waist before gradually flaring out into a full skirt.
As its name implies, the princess wedding dress style can be easily identified by its fitted bodice and full skirt with beautiful embellishments such as embroidery, beading or sequins. This style is suitable for brides looking to feel like princesses on one of the most important days in their lives!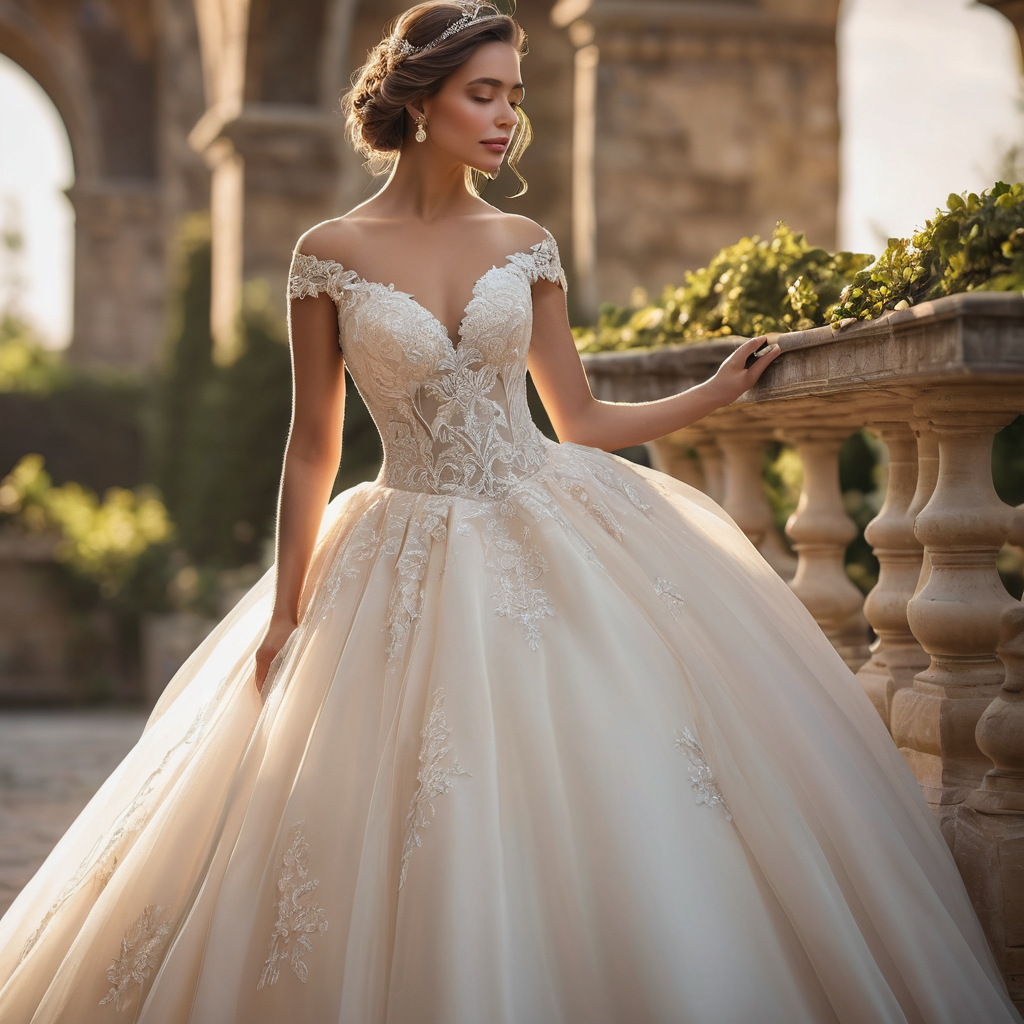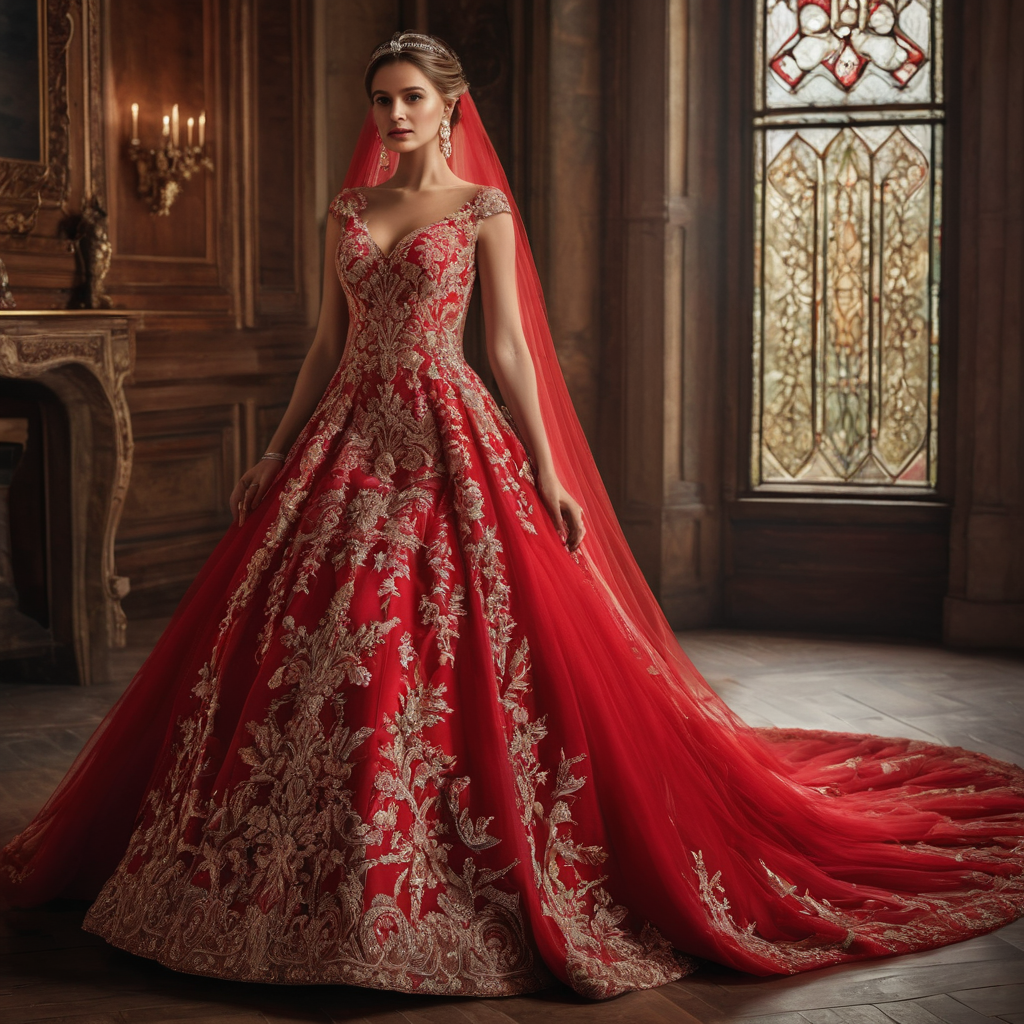 Multicolor Marvel Lehenga
Multicolor lehengas are perfect for brides-to-be who can't decide between one color or several. In addition to being a stunning Mehendi outfit, they also add vibrancy and charm to a wedding. Its monochromatic color soothes the eyes while its traditional reflective embroidery adds beauty to it.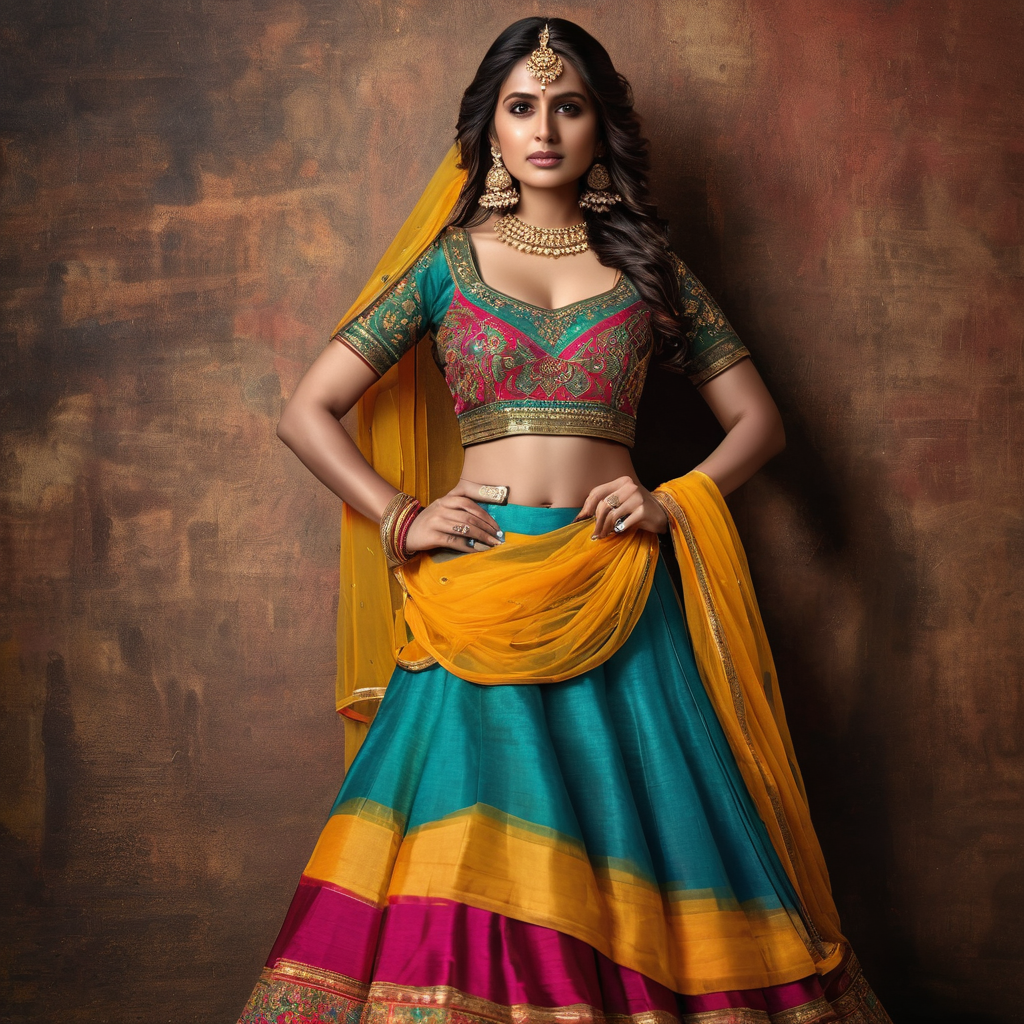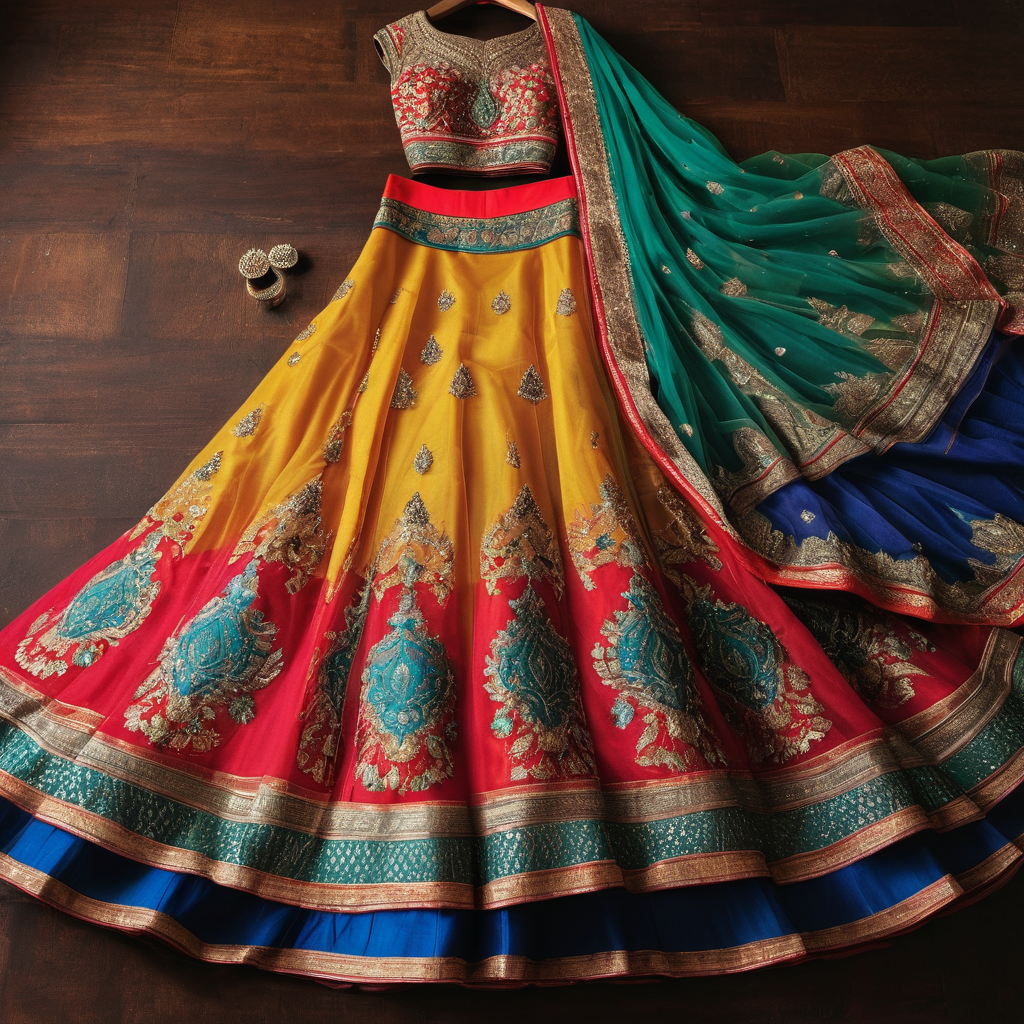 A classic red lehenga
A classic traditional red lehenga is the ideal Indian wedding dress for girls. Nearly seven out of ten brides still opt for red lehengas on their big days, due to their stunning look that effortlessly balances bold with elegant. It was impossible not to fall in love with this enchanting bridal ensemble when she wore a deep red lehenga embellished with stunning meenakari and polki jewels.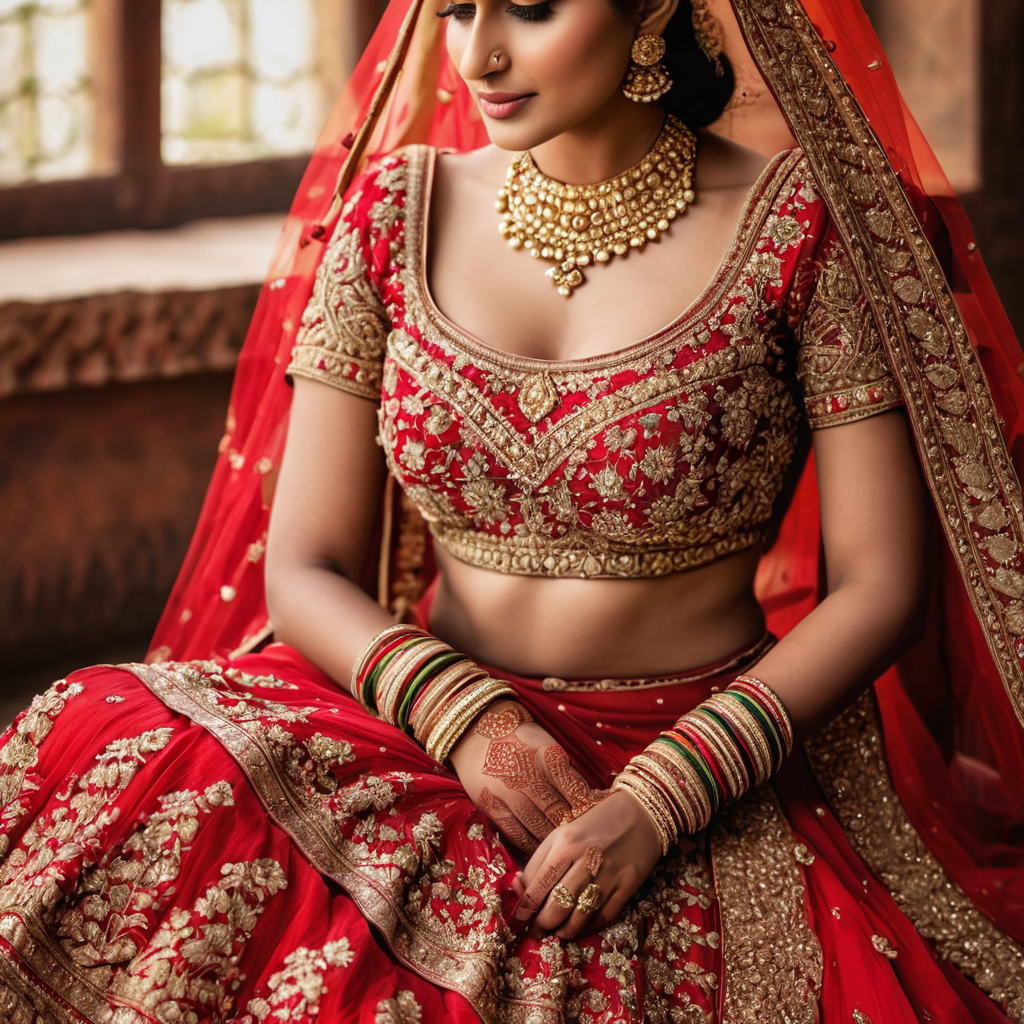 Red Bridal Gowns
The traditional color for auspicious occasions, red is widely utilized throughout India as it symbolizes prosperity, passion, and new beginnings – even representing goddess Durga of feminine power. Thus red wedding gowns have long been considered appropriate attire on most auspicious occasions in this part of Asia.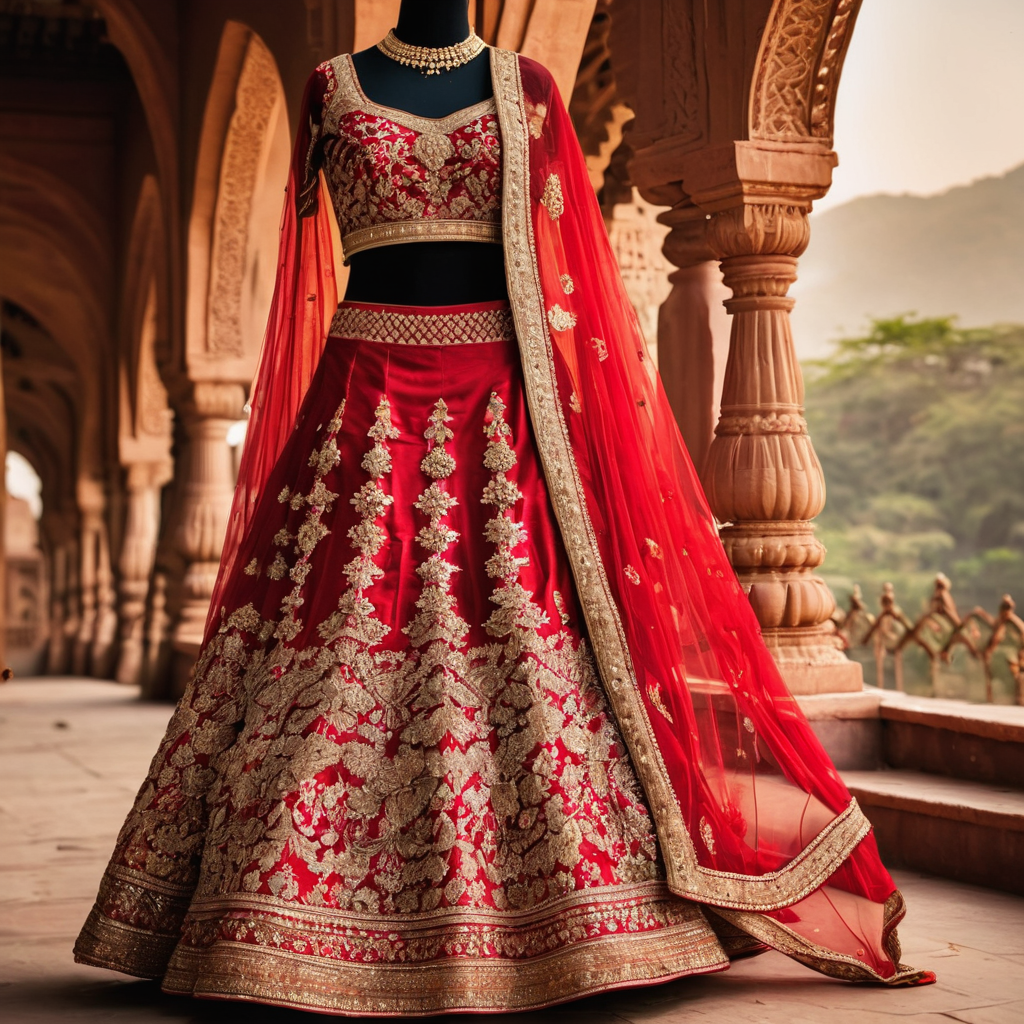 Floor Length Anarkali
An Anarkali suit has long been one of our go-to pieces of attire. But floor length Anarkali suits are particularly breathtaking, perfect for all body types and easily seen in anyone's wardrobe. Floor length Anarkalis are an elegant statement piece perfect for special events like weddings and smaller pre-wedding ceremonies. To amp up the drama for larger affairs you could opt for heavier designs with intricate embroidery details; but for normal engagement or tilak functions something sophisticated like this floor length Anarkali would look fantastic. Pink accent sleeves with delicate jewellery and appropriate pair of heels will complete the look.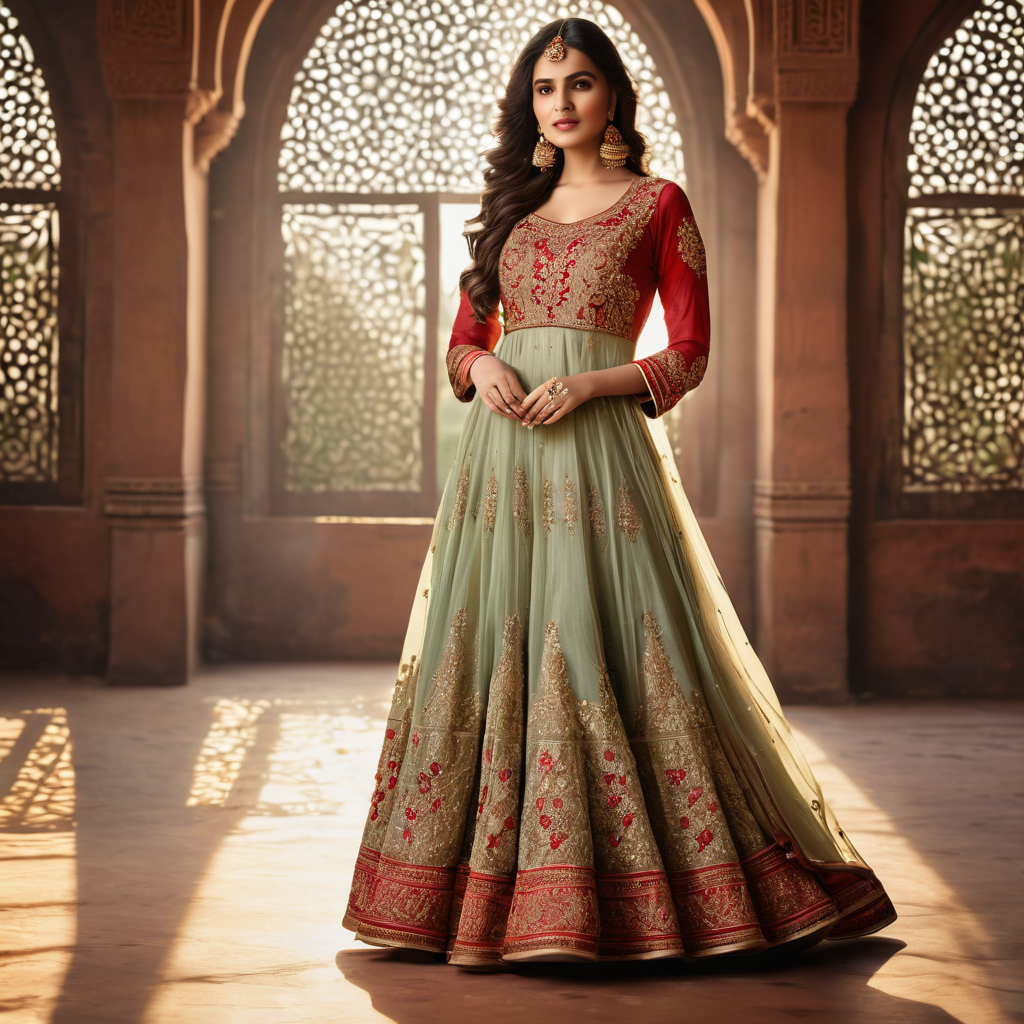 Winter Shawl Twist
Winter weddings can be challenging. A lot of thought comes in mind while choosing an wedding attire, a winter complicates this further. Did you know that you could transform your winter wedding outfit by adding just one element? Shawls have become an essential component of winter wardrobe, offering comfort and warmth while looking good. There's a variety of designs available from solid colors to thread embroidered ones. During the late pheras, a shawl can provide warmth and elegance while remaining stylishly comfortable.Simply pair it with pearl earrings and bangles for accessories. Use a kamar bandh or sleek body chain to keep the shawl in place. Finish it all off with an elegant clutch for dancing through the night.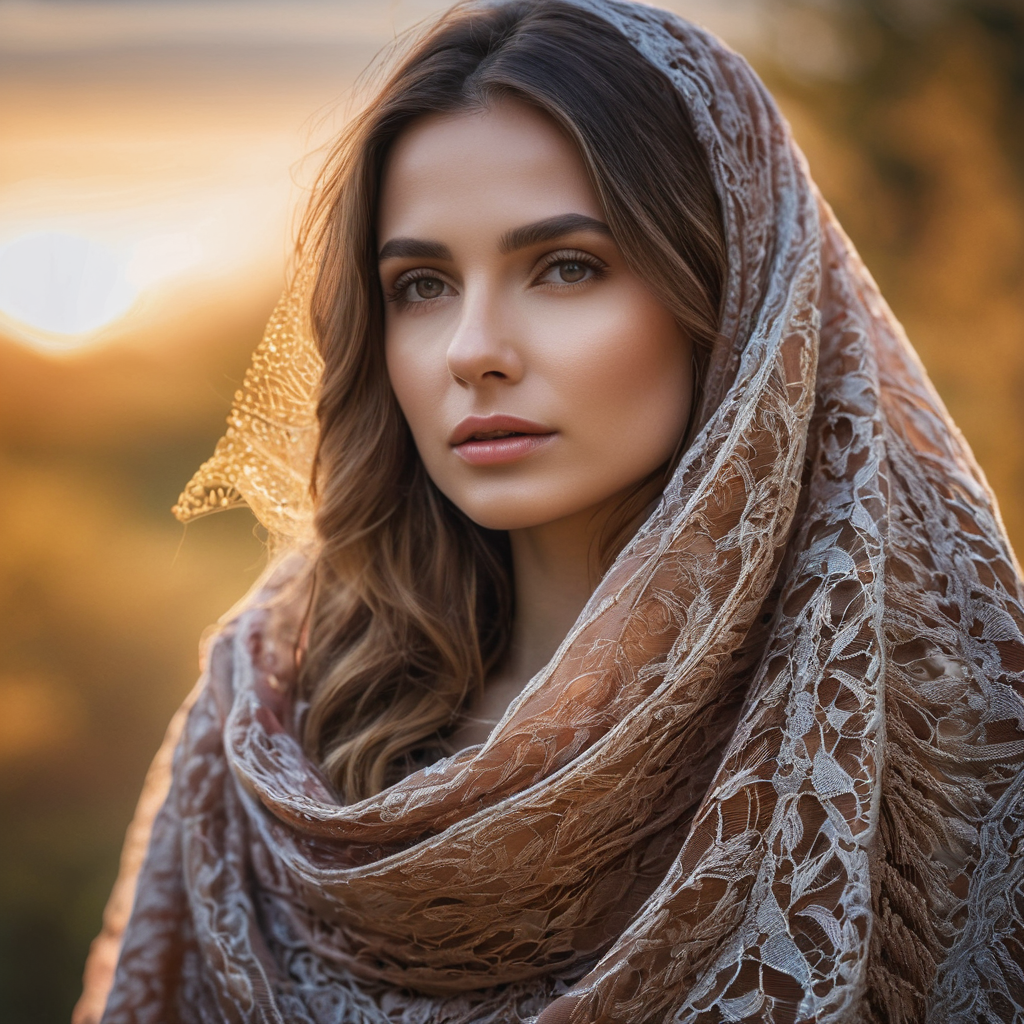 Saree Jacket Splendor
Add an eye-catching jacket to your saree and take your wedding outfit to another level with this modern touch. A navy blue lotus jacket with a deep neck fits beautifully over a navy blue saree featuring gold borders. This monochrome outfit makes a striking impression at pre-wedding ceremonies or small weddings. Pink, light blue, red, and green pops add vibrancy to an outfit. A simple maang tikka necklace, nude makeup application and pair of juttis will complete this look nicely.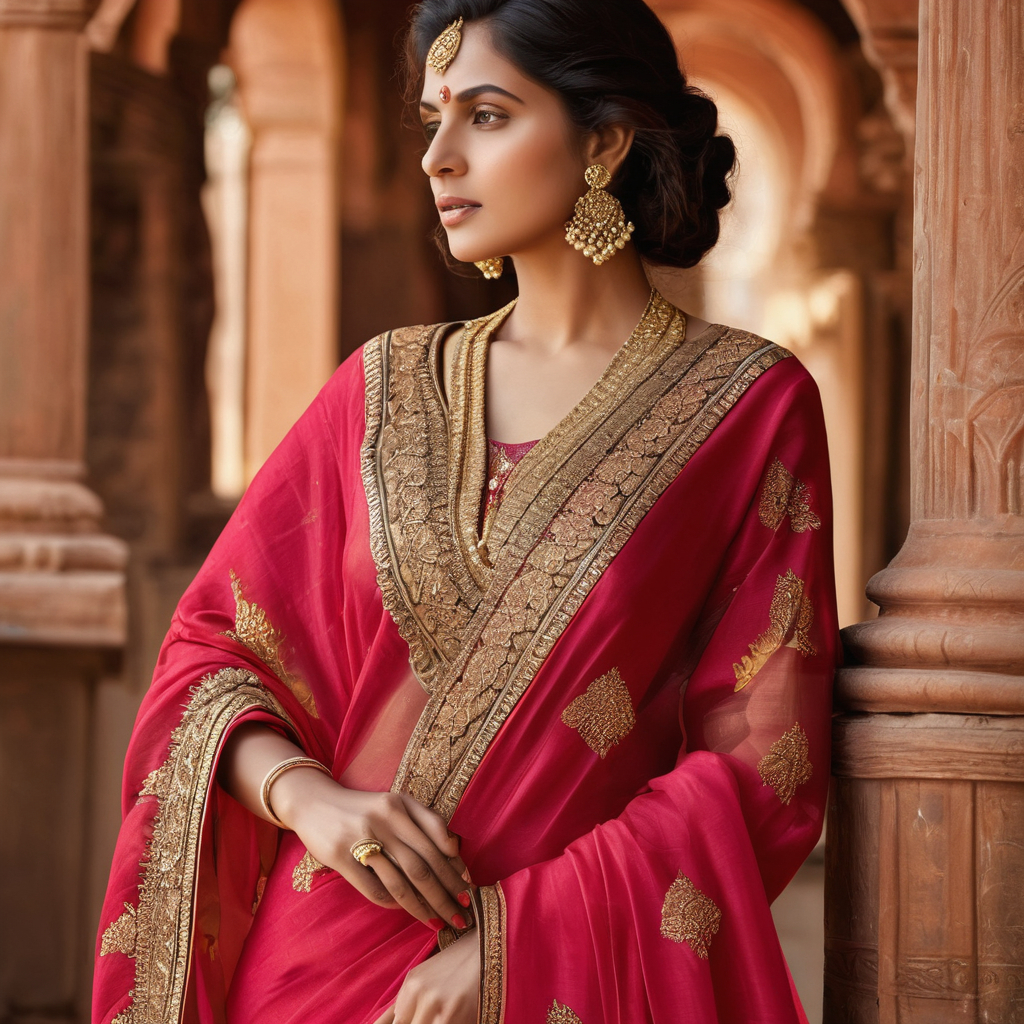 Royal Silk Sarees
As soon as we think of Indian ethnic wear, our traditional silk saree comes to mind immediately. An evergreen choice for wedding dress, this pink silk saree features broad gold borders and a sleeveless blouse adorned with wide gold borders to add classiness. Polki earrings with teardrop drops in pink tone set off this look beautifully. The traditional charm of this Saree will be completed by pink lips and dainty bindis.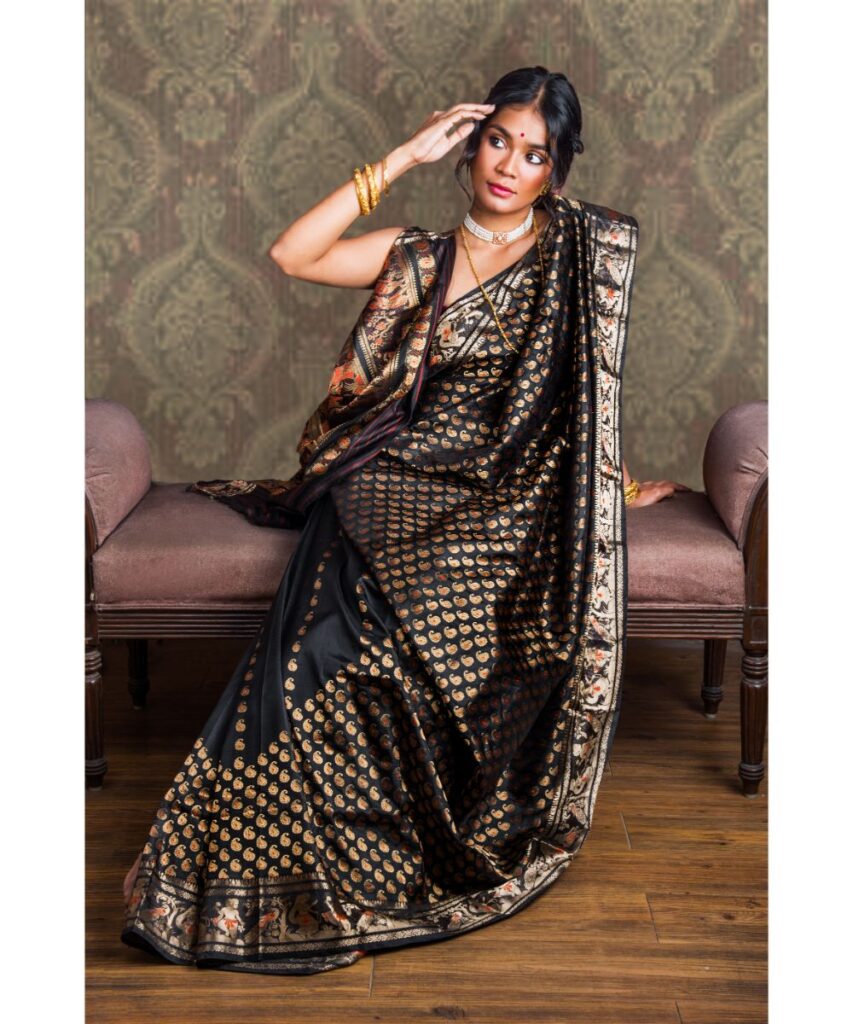 Regal Rhapsody Sharara Suits
Sharara suits are great options for most body types. Less formal compared to modern but it still looks stunning. The lime green one here looks bright and fresh with red and blue thread-embroidered flowers to break up its monotony. The colorful tassels add the finishing touch to your outfit, making it complete. Add lime green bangles and dainty earrings to look like a charming princess.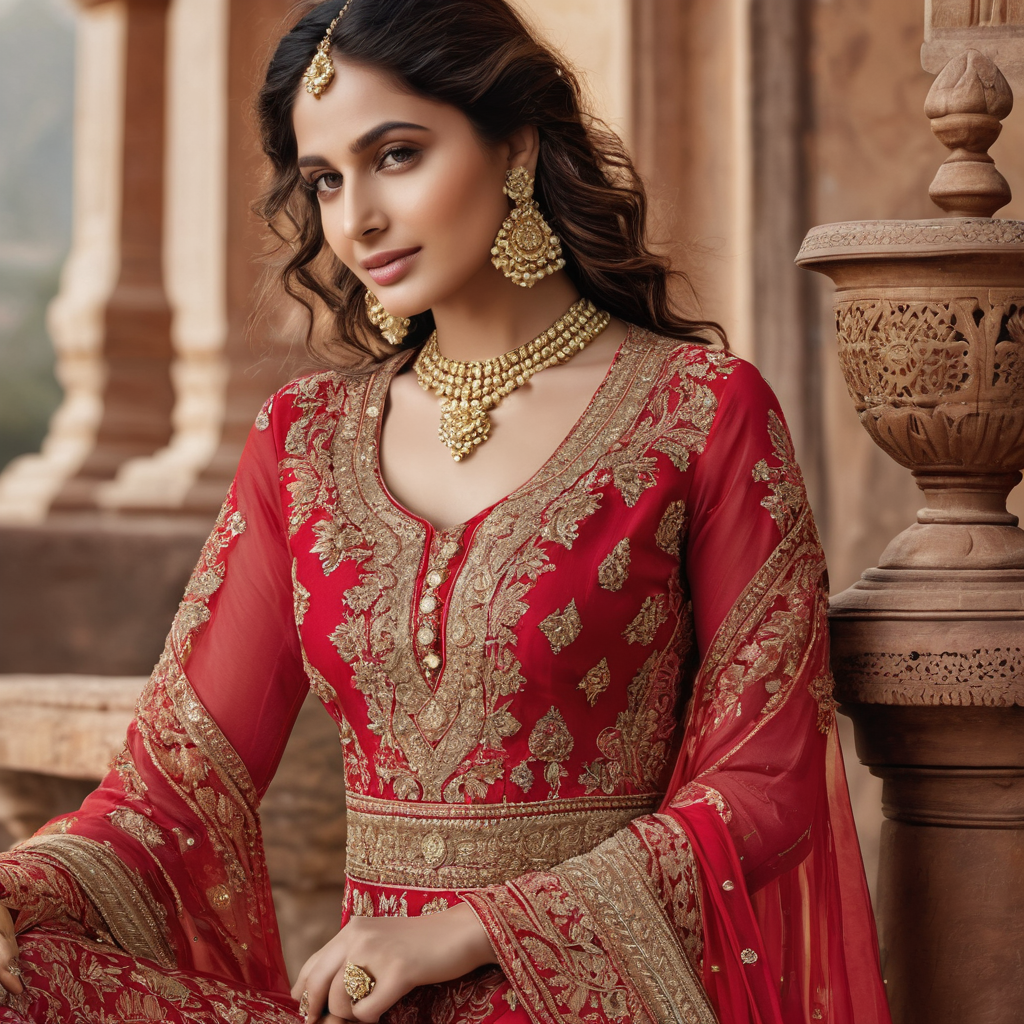 Ethereal Essence Gharara Suit Sets
Gharara sets will give you a royal feel. Originally hailing from Arabian culture, this style might not be everyone's cup of tea but if it suits you then go shopping. Gharara suit is a traditional outfit with a top and wide-legged pants that can make you feel so elegant and regal. This style comes from Arabian culture and has such a unique exotic vibe. Now this style may not be everyone's cup of tea but if you try it on and the look totally speaks to you, then you gotta get it!
Picture it – a gray kurta style top paired with those gharara pants. The kurta has beautiful embroidered sleeves and a layer of net fabric at the knees with leaf motifs. And check out that royal blue velvet stole with silver borders – it pops against the gray so nicely!
When you wear a gharara suit like this, you'll feel straight up royal – like a queen or a Bollywood actress! If it makes you feel amazing, then definitely consider adding this exotic piece to your wardrobe.
Brides Rich Indo-Western Outfits
No matter how fashionable you become, ethnic wear will never run out of style. Indo-Western dresses for ladies have their place in every woman's wardrobe and now, Indian ethnic women's clothes have become something to flaunt.
At weddings, puja ceremonies, festive celebrations, sangeet functions and other occasions, there is so much craze about the latest Indo-Western designs for women. You can find trendy ethnic wear in different colours and designs through online shops in India.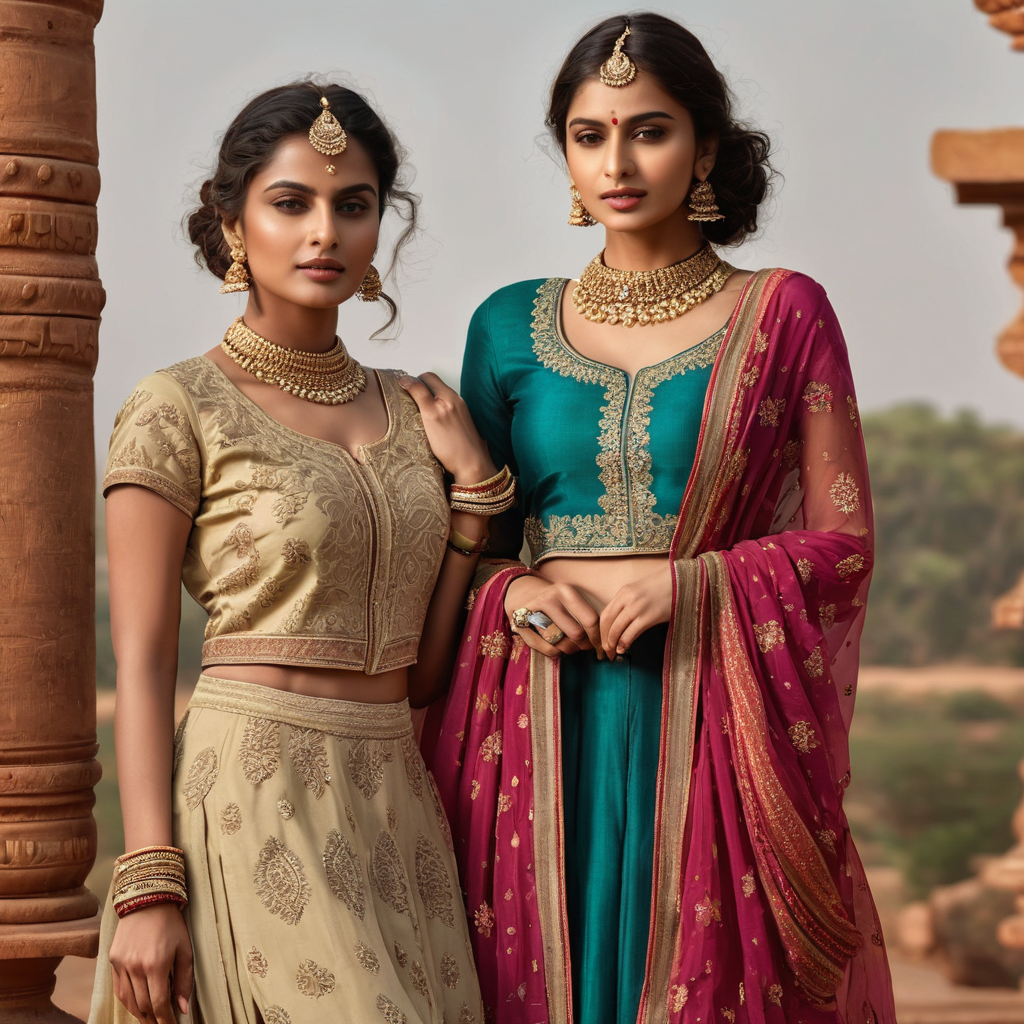 Wedding Dress Ideas and Styles for Grooms in 2023
Velvet Splendour Blue Sherwani
Check out this Sikh groom dripping in masculine style! His royal blue sherwani has the coolest textured details and embellished collar and buttons – so eye-catching! He paired it with tapered trousers and decorated shoes – such a classy Indian groom fit. But the star of the show has to be that embroidered stole with the cutest animal and nature motifs. It features elephants, birds, flowers – all types of things you find in nature. The groom's entire outfit just screams regal vibes. The rich blue sherwani, the perfect tailored pants, the embroidered accessories – he looks like Indian royalty! Any bride would be lucky to marry a guy with style this on point. Those wedding pics are gonna be straight fire!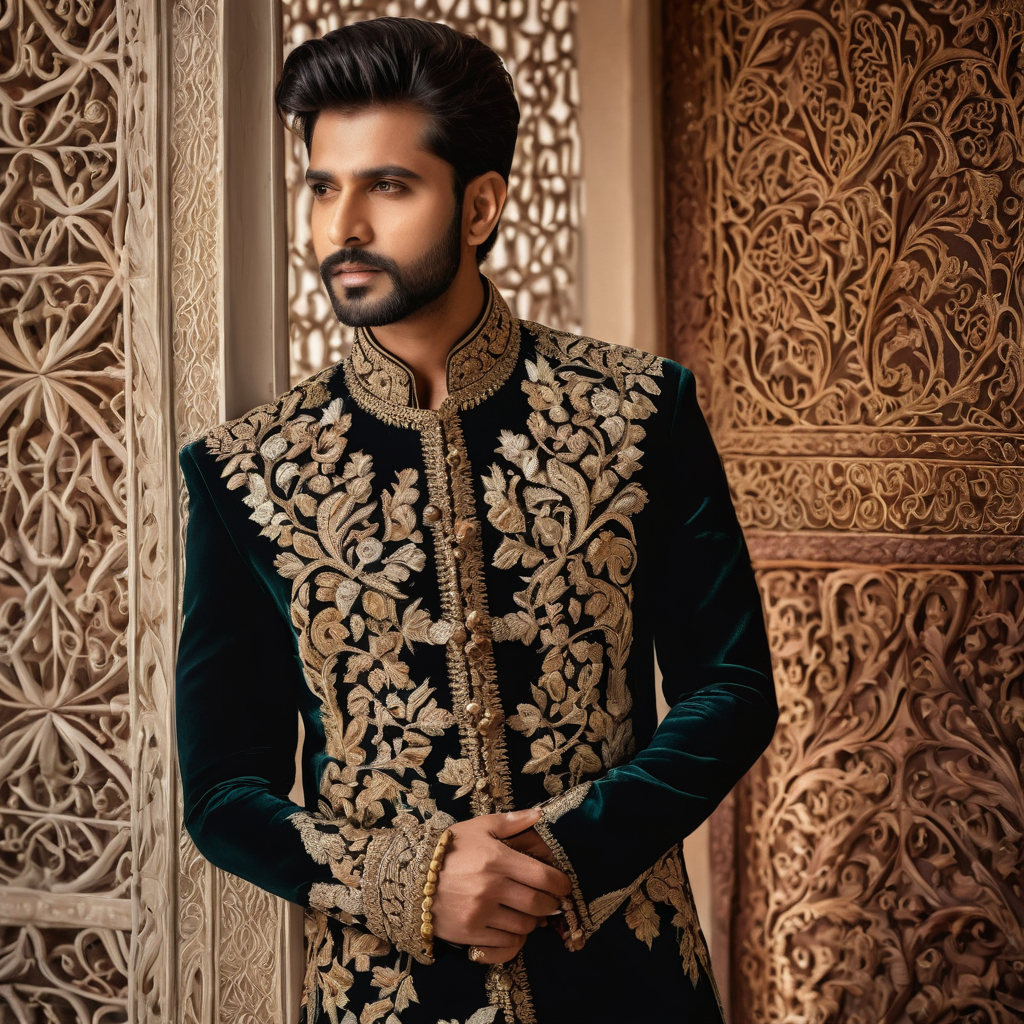 Floral Embroidered Anarkali Sherwani
Check out this ice blue sherwani set – it's gorgeous! The sherwani jacket is made of dupion silk and has the prettiest floral embroidery all over it in shimmering metallic zardozi thread. I love the slanted closure in the front instead of buttons, and that embroidered collar with fancy gold zari work takes it to the next level!
It comes with an aqua blue stole that complements the sherwani so nicely. And how cute is the ivory anarkali kurta and churidar it's paired with? The whole set just screams regal Indian style!
Keep in mind too – even though this set comes in an ice blue and ivory color scheme, you could also get it custom made in any color or fabric you want. If you prefer deep reds, vibrant oranges, rich purples or luxe golds, they can hook it up! Anything you envision for embroidery, fabric, or colors can be customized – how cool is that?
Basically this outfit lets you create your own unique Indian royal vibe. You're gonna look like a queen in this sherwani set!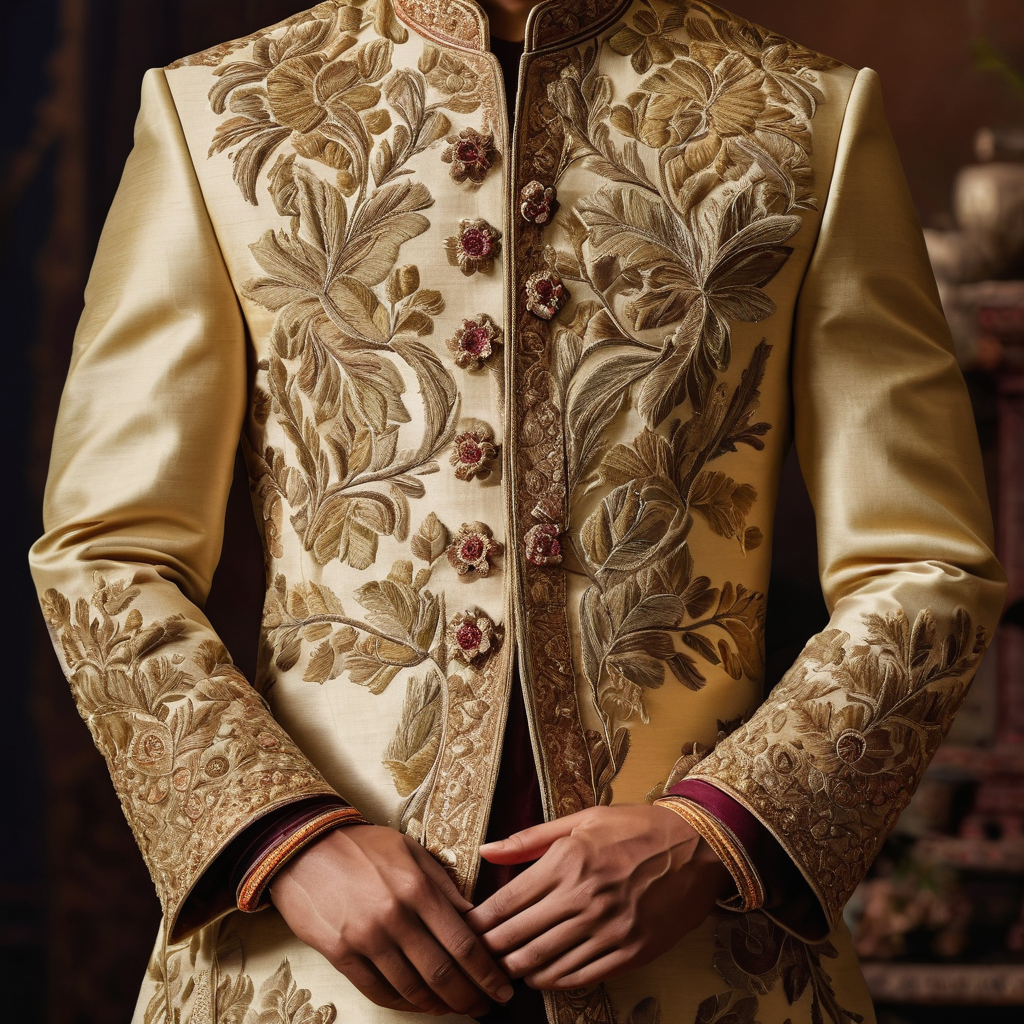 Peaches and Golds Sherwani jackets
Sherwani is a traditional long coat-like garment worn by Indian men. It was originated in Mughal era when warriors and nobility wore elaborate coats over churidar pants. Sherwani jackets usually have a collar and buttons down to the front which are often made of luxurious fabrics like silk, brocade, or jacquard. Any groom would absolutely feel like royal in a regal peach sherwani outfit because the sherwani jacket has intricate gold thread embroidery all over the collar and shoulders, Underneath it has gold kurta with bright zigzag patterns which is fancy yet subtle.
Sherwani comes in many colors but peach is common for grooms, symbolizing sweetness and new beginnings. Pairing it with gold adds even more luxury. With custom embroidery and stylish stoles, the sherwanis allow grooms to showcase their personal style. When you wear a sherwani at your wedding you will feel like a proud Indian prince.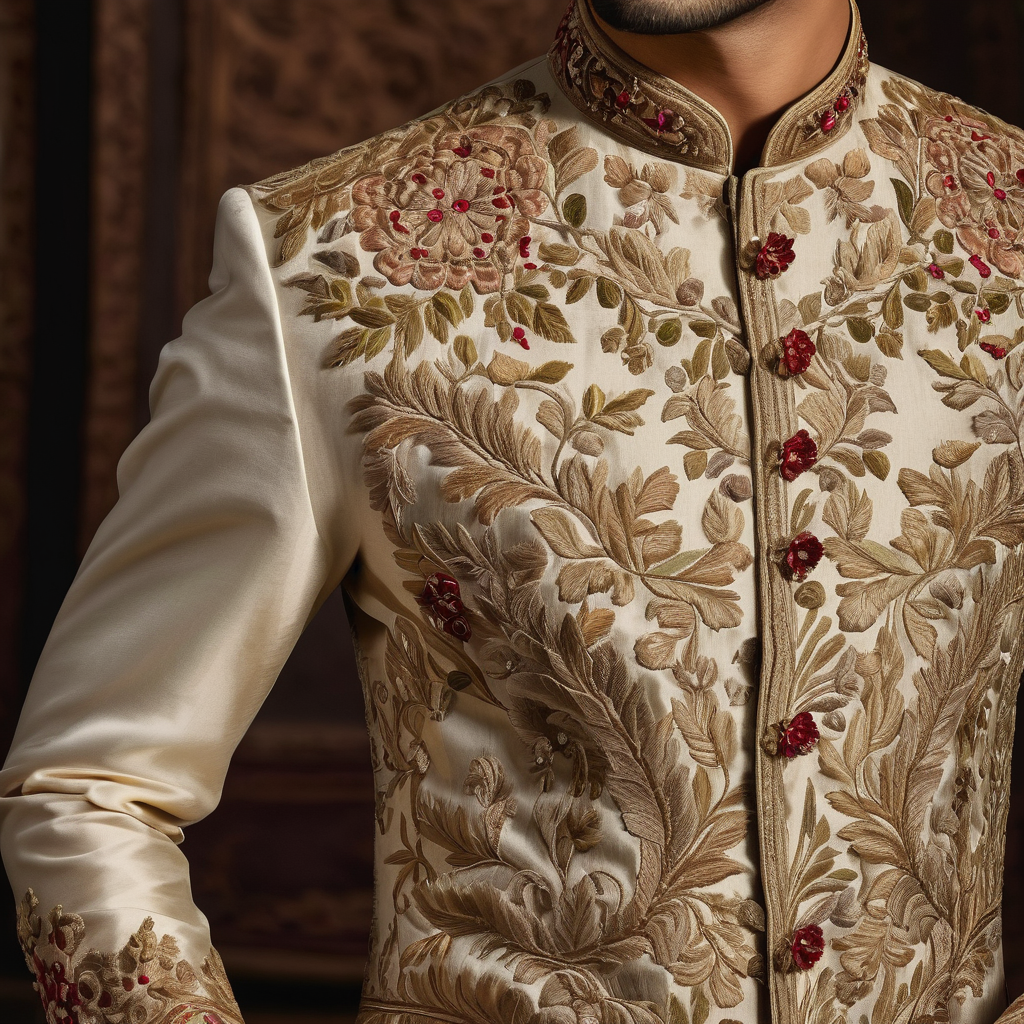 Deep Tones and Ivory
Deep Tones and Ivory – This groom has created an extremely innovative color combination with his attire. An embroidered sherwani jacket featuring jacquard details is worn over a dark green traditional flared kurta, while this dark green velvet stole adds grandeur. A mala and turban add a personal touch, that only enhances this special ensemble.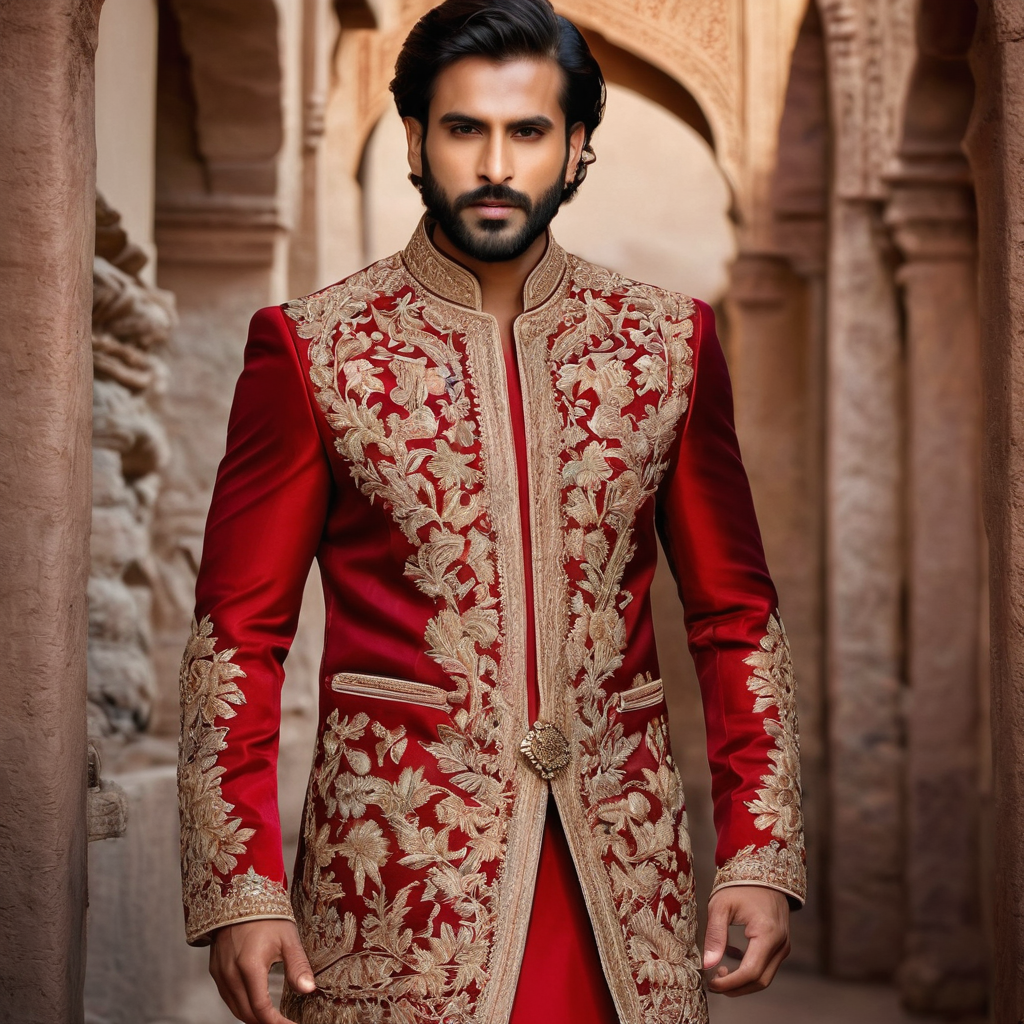 Straight Sherwani with Open Front
Silver sequin, stone and crystal embroidery is delicately stitched onto a subtle rose gold toned fabric. The intricate embroidery zigzag pattern on the sherwani jacket and stole showcases craftsmanship and precision. A floral embroidery on the sleeves adds exotic charm, while the embellished belt adds a signature touch.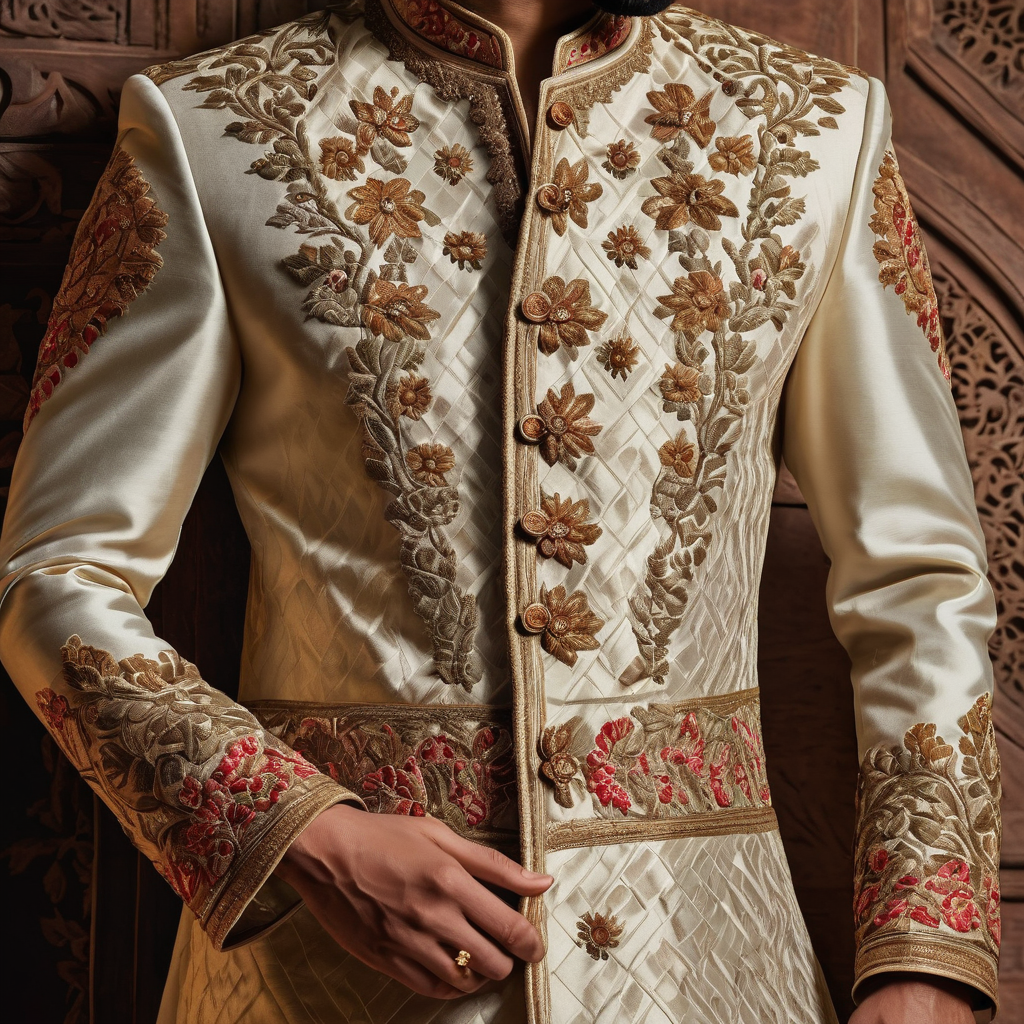 Hand Embroidered Short Sherwani
This navy Short Sherwani jacket displays exquisite hand embroidery made of Dupion Silk Fabric. Sherwani jackets are decorated with intricate designs using neutral metallic tones like silver thread work. The lower portion of the garment is adorned with floral motifs set into geometric shapes, while the yoke area is sparsely embroidered. Pair this outfit with tapered trousers in the same shade.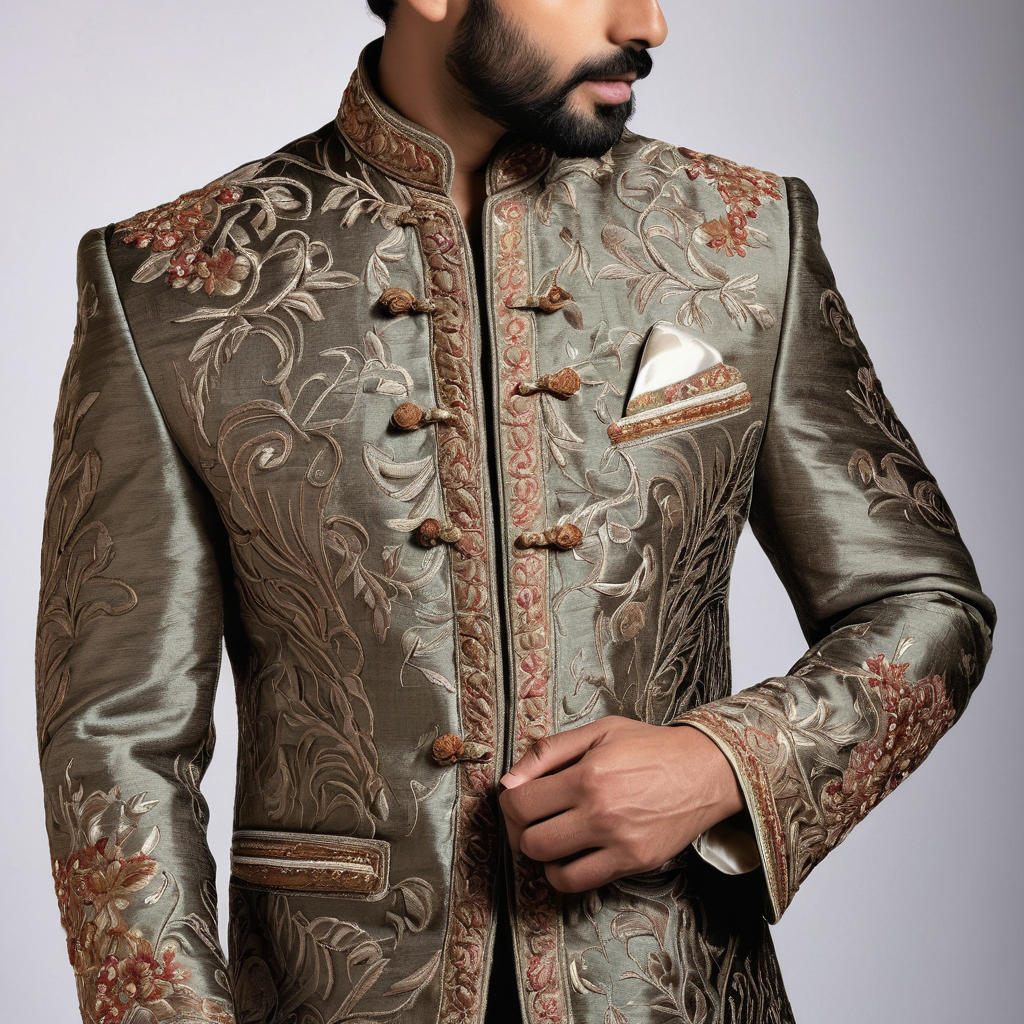 Elegant Ebony and Ivory Achkan
This stunning Achkan is perfect for an informal wedding function and creates a lasting impression on your guests. Achkan suits are sometimes called Jodhpuri suits.
A Jodhpuri suit is an ethnic outfit popular among men that originated in Jodhpur during the last century. It combines a kurta, bandhgala jacket and jodhpur or churidar bottoms. The brocade and jamawar versions are the most common versions worn by Indian grooms on their big day.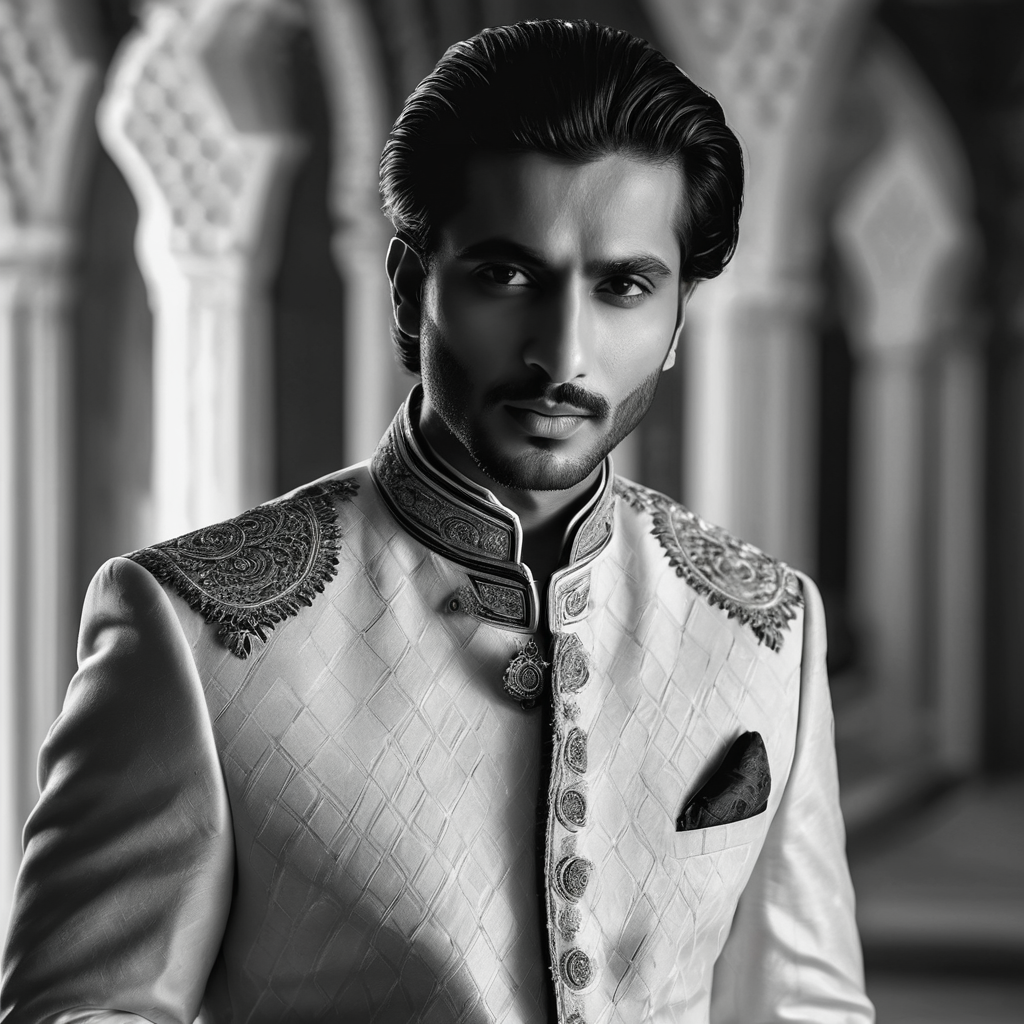 White and Black Woven Design Suit Set
Here's an elegant white and black woven suit set featuring matte and glossy textures in its jacket. This would make an impressive appearance for grooms at their reception ceremony. The raised geometric motifs feature glossy finishes while its single button fastening mechanism stands out among its peers. Furthermore, the ornate cuff buttons complete the look when paired with the black shirt and trousers.
Indian wedding groom outfits vary according to choice, culture and region. For weddings, sangeets, and haldis, grooms usually choose heavy and royal attire according to their rich history and culture. Rajasthani grooms tend to opt for various options when selecting attire for pre-wedding appearances.
It is the right time to explore trending wedding dresses and outfits for your wedding ceremony. These various gorgeous outfit combinations can help you narrow down your ideal attire for your wedding day. Let's look at wedding dress ideas suitable for modern brides and grooms.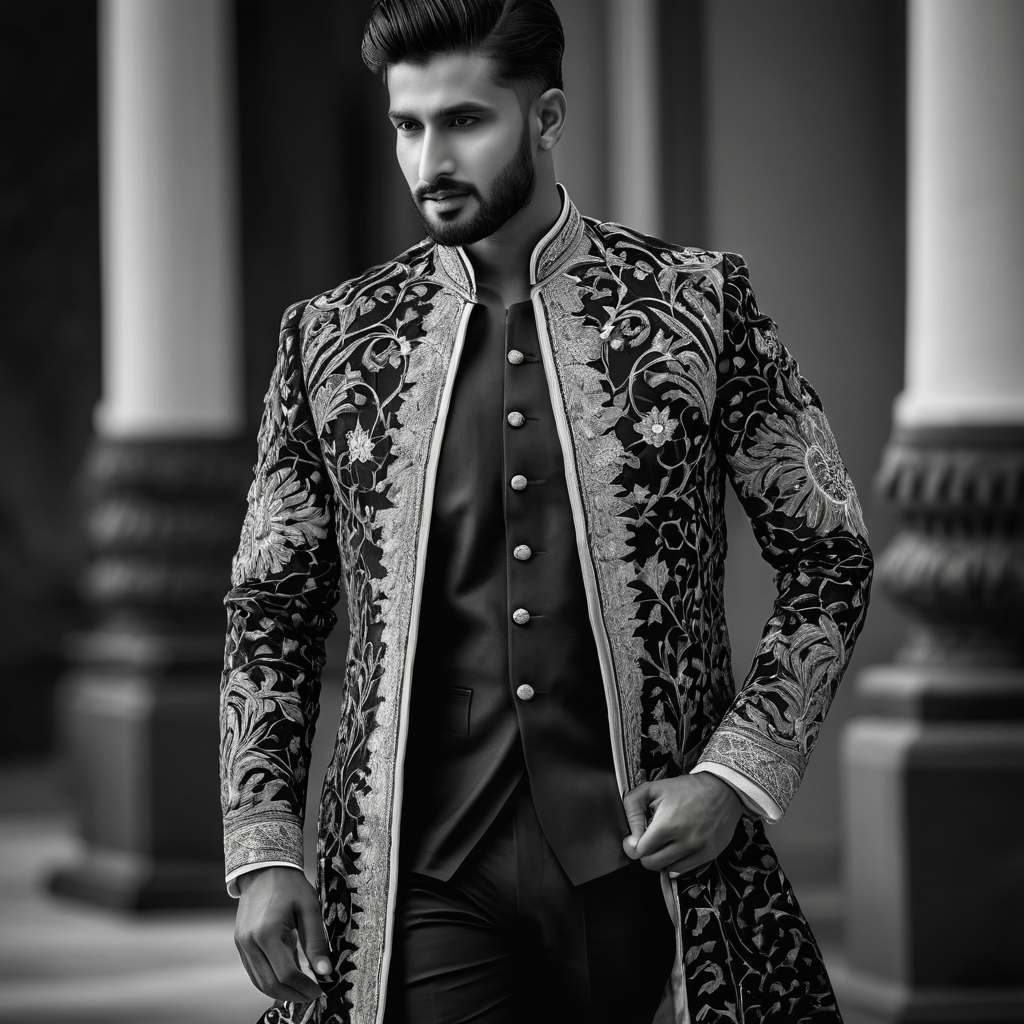 Royal Indo-Western Outfits
Indian wedding groom outfits vary according to choice, culture and region. Due to their rich culture, grooms often choose heavy and royal attire for weddings, sangeets, and haldis. Rajasthani grooms choose various options when selecting attire for pre-wedding appearances.
It is the right time to explore trending Indo-western outfits for your wedding ceremony. These various gorgeous combinations can help you narrow down your ideal attire for your wedding day. Take a look at modern groom's wedding dress ideas.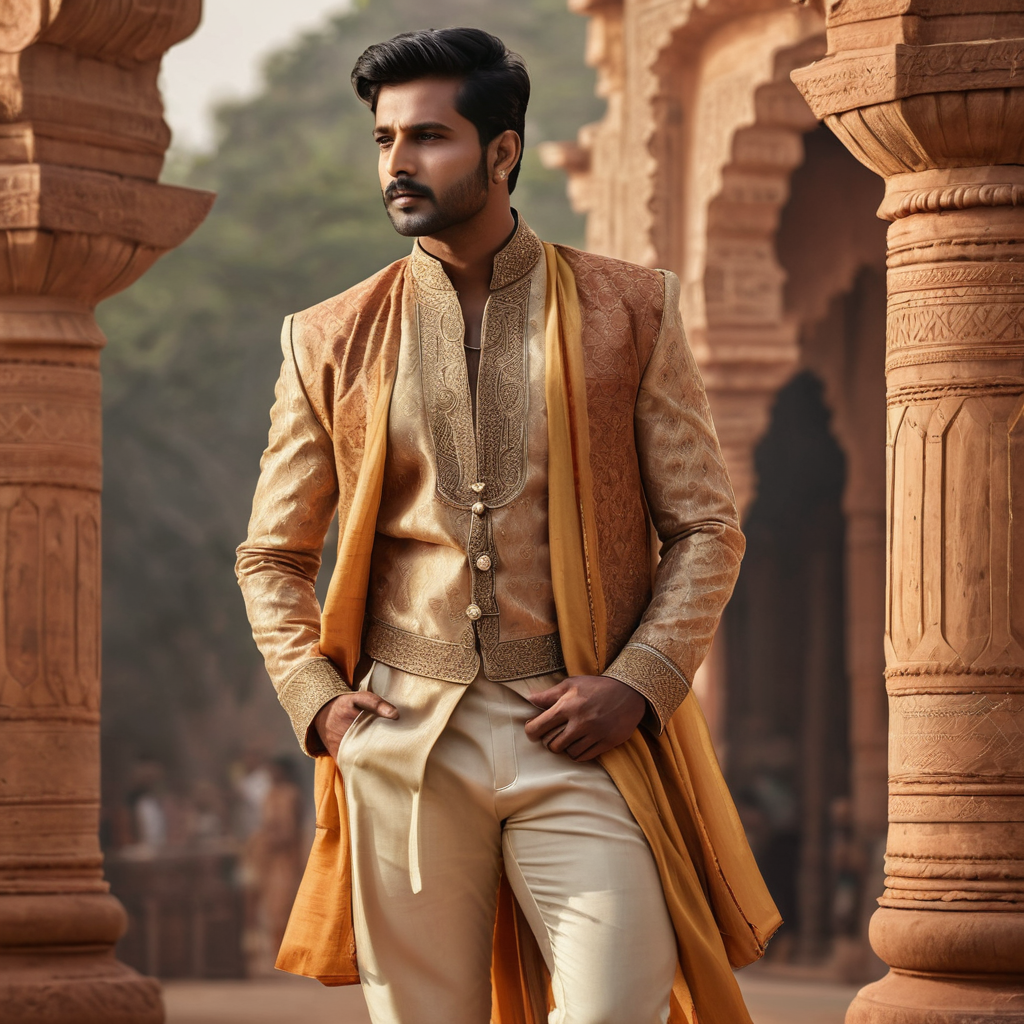 The Triple Elegance Attire
Looking for a classy charm coat for your wedding coat? Nothing beats a wedding coat when it comes to looks.
Pants with a coat make an impressive fashion statement at weddings and cocktail parties. Silk sets with contemporary prints add flair and make an eye-catching party statement.
In addition to cocktail and three-piece suits, there is a vast collection of wedding suits available. Be open minded while searching for an ideal 3 piece suits and don't be intimidated into choosing something different than you originally envisioned.