Have you ever received a cocktail wedding invitation and wondered what cocktail wedding attire to wear? We've seen many weddings where this dress code applies to wedding guests. Usually in these kinds of ceremonies, men prefer suits and women opt for cocktail dresses. Although a lot of couples arrive in black tie attire, formal attire is generally the standard outfit according to many wedding planners and firms.
"Cocktail dresses are intended to bridge the gap between day and night." Cocktail attire can mean something different depending on the venue, time of day and season of a wedding event. Don't feel confused: "What is Appropriate Cocktail Attire?" After receiving an invitation. In this blog, with the help of experts we will break down what cocktail wedding attire means. We will also provide solutions on how to accessorize the dress. Read on to understand this wedding cocktail dress code requirement fully.
[Suggested to Read: 7 Perfect Outfit Ideas for the Groom Squad To Steal the Show at Any Wedding Ceremony]
What is cocktail attire called?
"Cocktail Attire, " is a dress code term, can often be confused with "Semi-Formal." While there are notable contrasts, both fall within a gray area between casual dress and formal attires /Black Tie."
An appropriate cocktail attire can fall somewhere between a casual and a formal costume. It can help to think of cocktail hour as between day and night. For instance, you wouldn't wear the same thing at an afternoon wedding and at a reception. For example, time and day is not the only factor to determine what cocktail attire looks like; other consideration is who's inviting you, the event venue and season as well. Outdoor events usually require less formal attire. Dressing for an outdoor spring/summer event is different from indoor events. In general warmer months follow with lighter fabrics and colors.
Exquisite Wedding Cocktail Attire for Women
So what exactly is cocktail attire for women? Traditional formal attire is a ruler, which doesn't important to wear an evening gown or miniskirt. If you want to dress up something different from a formal attire, consider stunning like a midi cocktail dress that hits just above the knee, or think about modern styles such as jumpsuits, suits, or skirt-and-top combos based on the venue, season, and overall vibe. Guests can add flare to the occasion by adding eye-catching prints, fashionable necklines or vibrant hues according to these rules.
From formal embellished jumpsuits to casual floral frocks, we've collected the trending and hottest cocktail attire for women. These attires can be worn again after the wedding ends! It's truly a win-win scenario.
Simon Pink Halter Neck Jumpsuit With Overlay
Here's a latent and trending ensemble for the wedding season that you will love. A classic strapless pink jumpsuit crafted from 100% silk material in an exciting pink hue. This Simon Pink Halter Neck Jumpsuit is perfect for cocktail weddings and events.
A Dull Lilac Slit Skirt With Embroidered Jacket And Ruffle Neck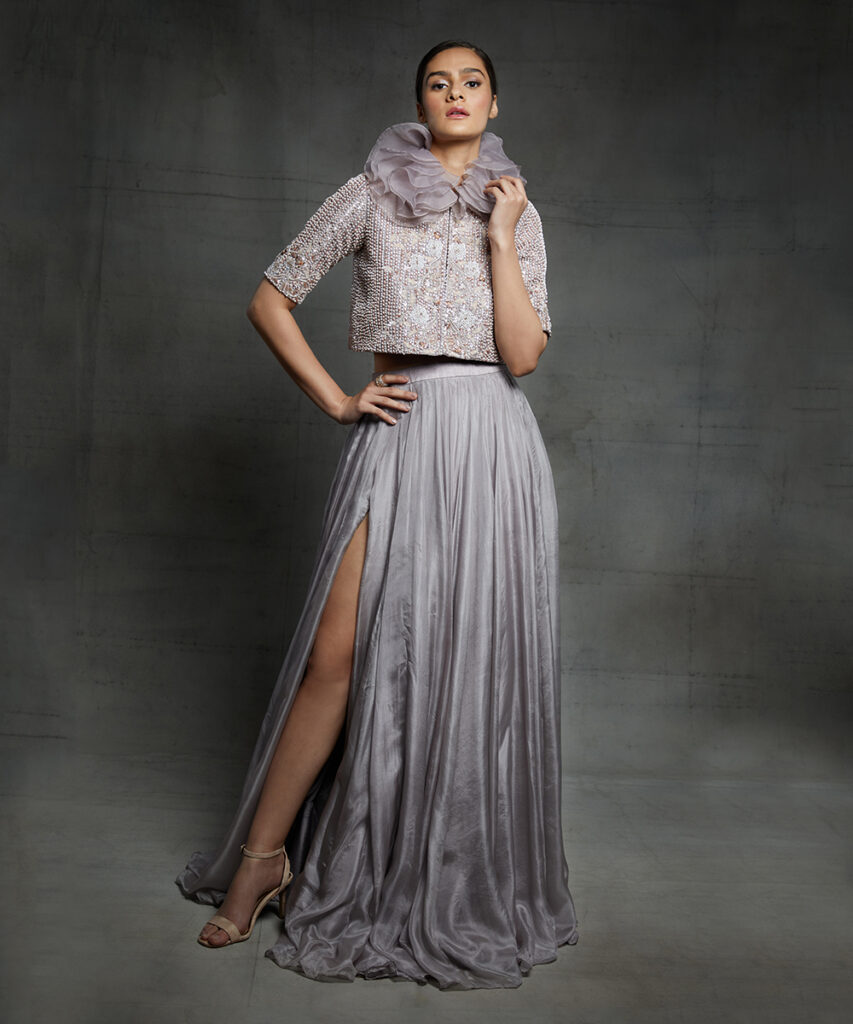 when it comes to choosing an ensemble for cocktail attire events do not overthink. Their ideal outfit consists of a Lilac Slit Skirt With Embroidered Jacket And Ruffle Neck paired with special shoes and bags from designers; both designers' heels can make any simple dress stand out.
Red Plunging Neckline Structured Cone Detailing Side Trail Gown
Are you having difficulty finding an old bridesmaids dress, or that evening Trail Gown that seems impossible to sell? you lead and make some alterations such as shorten to give a gown new life. In terms of footwear we recommend pairing an ankle wrap shoe with it to make it sexier and less formal.
Black Net Mermaid Gown
Cocktail attire offers more room for experimentation than black tie attire, giving you more freedom when it comes to personal expression. According to designer, you have more freedom when selecting cocktail attire as it has less restrictions in terms of suiting, silhouettes and vibrant colors as well as accessories that stand out. A combination such as this Black Net Mermaid Gown with its matching unitard makes an elegant and refined ensemble; don't forget the right accessories to complete the look!
Peach Embroidered Waist Cut Jumpsuit
Not a fan of dresses? No worries: formalwear and tailored waist cut Jumpsuit have become just as desirable in today's society as edgy women's pants suits and deconstructed blouses; Consider accessorizing your Jumpsuit with sparkly jewelry for instantaneous transformation from daywear into cocktail attire.
Sapphire Blue Floral Gown
Cocktail wedding attire doesn't mean you have to sacrifice floral designs and outfits—in fact, you should opt for them when the dress code allows for it. This Floral Goww is the perfect option for a variety of occasions.
Silver Embroidered Lehenga With Ruffle Blouse
With fantastic ruffles and a Ruffle Blouse, this Silver Embroidered Lehenga will be one of the best wedding styles. The sophisticated ruffle design has playful details, making it a great pick for a daytime event. Also, it set a benchmark in indo western outfit.
Wine Colored One Shoulder Gown
Here's a unique look you'll love to wear over the wedding season and beyond. This One Shoulder Gown is made from 100% silk and offers an elegant look you definitely love to wear in cocktail wedding events.
Black Embroidered Corset Trail Gown
Cocktail Attire stands in the center of dress codes, but its formality can vary significantly between looks. This black Corset Trail Gown is simple yet sophisticated. Don't forget matching accessories to accent the look.
Coral Pink Georgette Gown
When all attires fail to suit, you can never go wrong with your trusted Georgette Gown. This classic gown will turn heads on its own, but can also get a class with the right accessories.
Elegant Wedding Cocktail Attire for Men
Men in cocktail attire often wear a suit and tie. Guests can experiment with colors, prints and textures in their attire. Linen suits are an ideal choice for summer weddings, while heavier fabrics like velvet, Tuxedos and Blazers make more suitable choices for the winter season. Wear your chosen fabric suit with dress pants that match its hue and button-down shirt for optimal effect. Accessories offer another opportunity for color experimentation and bold prints, especially when worn with neutral suits.
Read on for our selection of essential men's cocktail attire and wedding outfits that work all year long. These outfits range from colorful suits to black and navy attires.
Atelier Designer Shirt
You can wear one of your usual office Shirts for a cocktail wedding party. Go with dark colors such as black, navy blue and charcoal to be on the safe side if you're not sure. As a general rule, keep in mind that the more patterns and colors you wear, you'll look less formal.
Monogram Tuxedo Set
If you have got invited to a wedding ceremony or a party in the evening, remain consistent with your look and go for a dark-colored suit with a white shirt and black leather shoes. Take a bow tie with you, if it is necessary, button the collar of your shirt and tie if suitable for the event.
Mustard Black Two Button Blazer
Blazers are a flexible choice for cocktail wedding attires, and there are multiple ways to style them appropriately. When attending a cocktail wedding, we suggest you stick to a dark-colored blazer, such as Yellow, navy, or black. However, if there are any other occasions, you can experiment with brighter colors as well.
Stygian Long Indo Western Jacket Set
Like a jacket, a cocktail event gives freedom to wear a more glamorous style of Indo Western Jacket – with a more distinctive round collar shape or cut of cuff. The dress isn't easy to pull off, and should worn appropriately
Black And Grey Tycen Achkan Set
Wear a simple, Tycen Achkan Set that compliments your physique and enhances the layering of your achkan. For instance, you can wear a classic Achkan for a sophisticated outlook. Therefore, consider choosing Achkan with subtle prints and designs to strike the perfect balance.
Black Jumpsuit
We recommend you to try various Jumpsuits and choose the one that complements formal cocktail attire. For a night cocktail party , select darker shades of Jumpsuits such as black, charcoal gray, or navy blue.
Mens Seersucker Navy Blue Blazer
Keep your t-shirt simple and give your Blue Blazer the visual space to make a good statement. As a bonus, you don't need cufflinks, as this t-shirt has no option to put it on and this outfit gives you an outstanding look.
Stylish Blue & Gray Coat
Suit colors like Stylish Blue & Gray are perfect choices for a cocktail wedding attire look. These unique classics make it unlikely you'll step on any toes or steal any thunder as a guest, and white shirt and bow tie looks great with these staples.
Coin Grey Coloured Tuxedo
We've established the perfect moment to make a bold choice, and this Coin Grey Coloured Tuxedo designed to shine. If you'd prefer stylish-yet-subtle, try this Gray Coloured with a shawl a collar tuxedo.
Black Sharp Blazer
For the best classic look, a Black Sharp Blazer is an ideal outfit for any Cocktail wedding ceremonies. Its high-contrast color and simple styles will help shine your outfit. If desired, sky white shirts will also achieve a similar effect while Attracts the guest in function.