Definition of Formal Wedding Attire
When Families or couples attend wedding functions they refer to formal wedding attire. For women, formal dress means pretty, long dresses with colors which give you rich glamorous looks. Men commonly wear formal outfits, tuxedos with tie and bow to look formal and handsome. Men's and women's formal outfits make you comfortable, give outstanding looks and make your wedding day more memorable.
Importance of Coordinated Pairing Outfits in Formal Weddings
While attending a wedding, you definitely want to look good in a natural way in your date's outfit. something like you and your friend both wear similar outfits for school dances. Same as if the bride and groom both wear outfits that match, it indicates how they belong to each other plus the outfits tell the story about their love and relationship. Coordinated attire makes a couple look even more special than normal wedding outfits and wedding photographs look more beautiful.
What Is Formal Wedding Attire?
Basically, formal attire refers to full-length gowns and cocktail attire refers to cocktail dresses or pantsuits. When it comes to men, formal wedding attire means a tuxedo with bow ties – my personal favorite piece!
When shopping for a formal wedding dress, consider the venue and season. Based on these you can get an idea of the atmosphere and your personal taste for that specific event. For summer events, lighter fabrics with brighter colors and shorter hemlines are appropriate formal attire. While darker hues, thicker fabrics, longer sleeves and hemlines might be more fitting for winter weddings.
Contrasting black-tie attire, wedding reception attire gives you more freedom when it comes to colors, embellishments and hem lengths. Do not be afraid to have some fun with your fashion either through vibrant hues or quirky prints. Dress lengths such as knee-length dresses, midis and maxis as well as jumpsuits, colorful shoes, patterned ties, statement pieces of jewelry and sunglasses (if outdoor wedding ceremony venue) also add personality to formal wedding attire."
Overall, select an outfit that you love and feel confident in. When it comes to formal wedding colors, select white, ivory, cream or champagne-colored dresses and light-colored suits.
Once you understand what formal wedding attire is and its definition, take a look at our top outfit picks. With expert guidance in hand, we have searched far and wide to bring you only the highest-quality formal wedding dresses ranging from chic black jumpsuits to timeless patterned suits – and everything in between.
Formal Wedding Attire for Women
Formal wedding attire includes evening gowns and elegant cocktail frocks. Choose the one you feel most confident in. However, you don't necessarily have to wear a dress at all. Jumpsuits are a stylish alternative that offers ultimate comfort during busy wedding festivities. You will also love suits and other attire – see some of our formal attire below.
Lilac Blue Trapeze Gown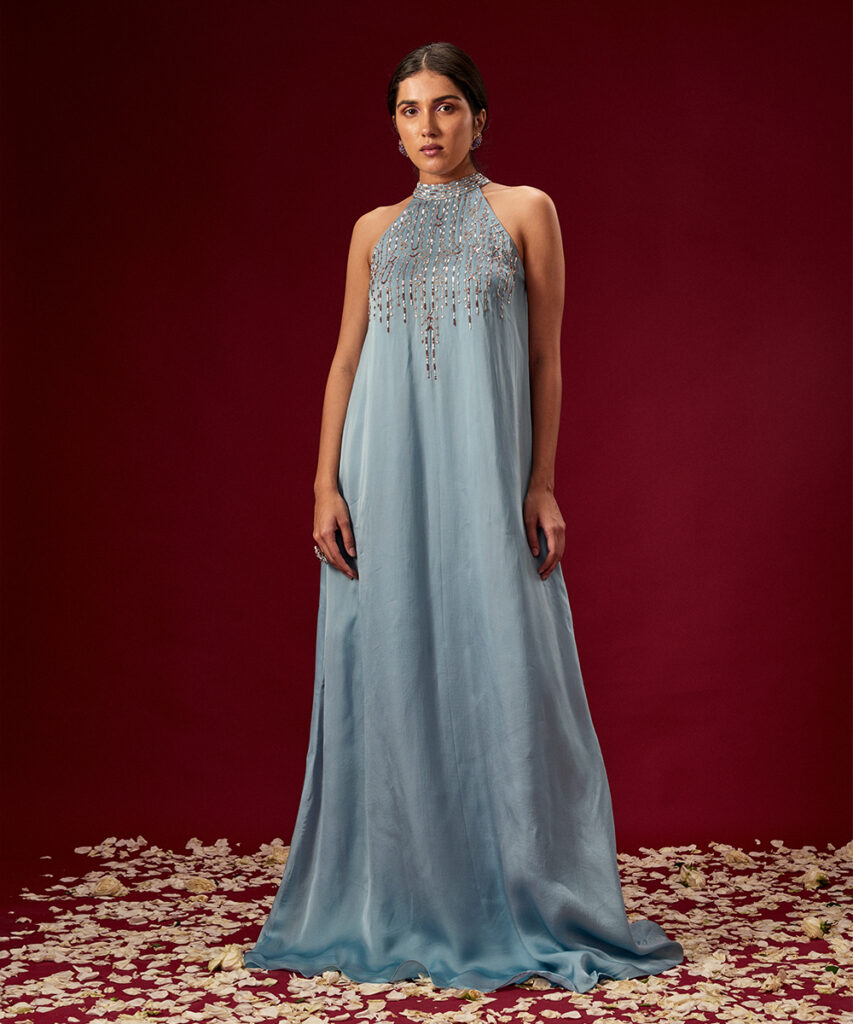 Here's a classic formal wedding outfit crafted from quality fabrics. This Trapeze Gown comes in XS to 6XL sizes and boasts an elegant neckline which skims across hips and hugs waist for an elegant silhouette. These are available in various colors, it makes this formal outfit suitable for any sophisticated event.
Pink Micheline Maxi Dress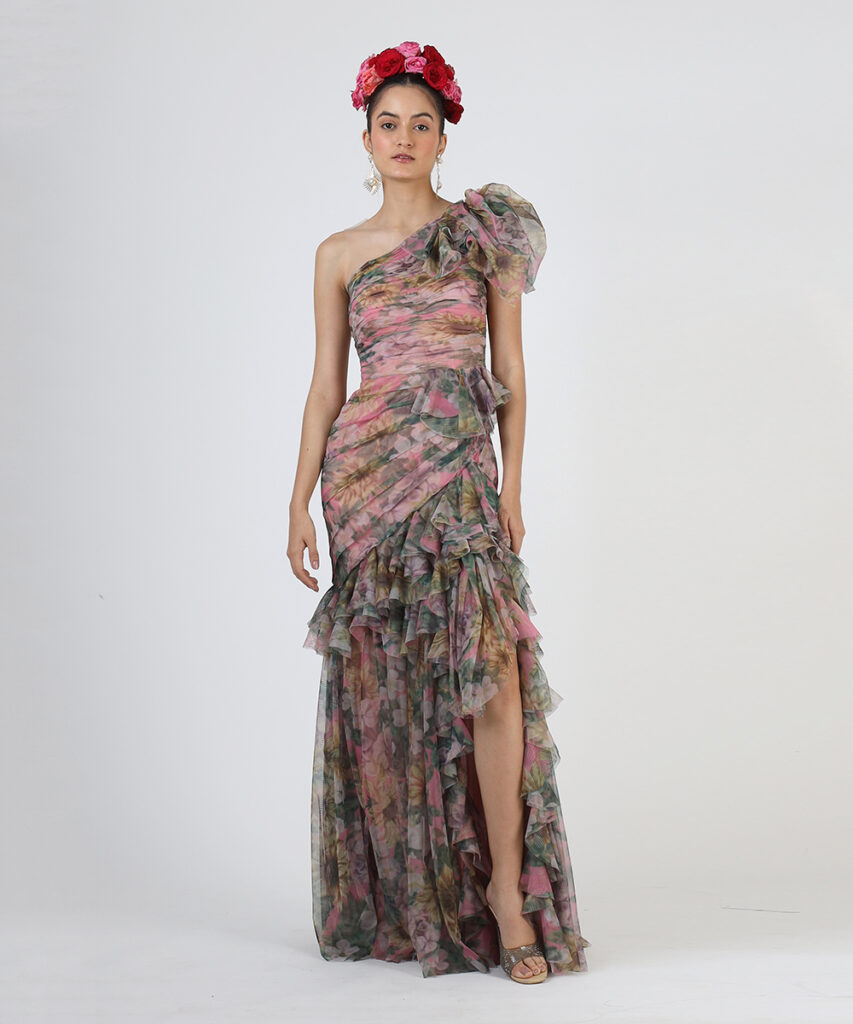 Floral dresses are suitable to wear around the year but summer is an especially great time to embrace their beauty. Our micheline floral maxi dress is ideal for weddings and dinner dates near beaches.
Chamee And Palak – Ivory Gown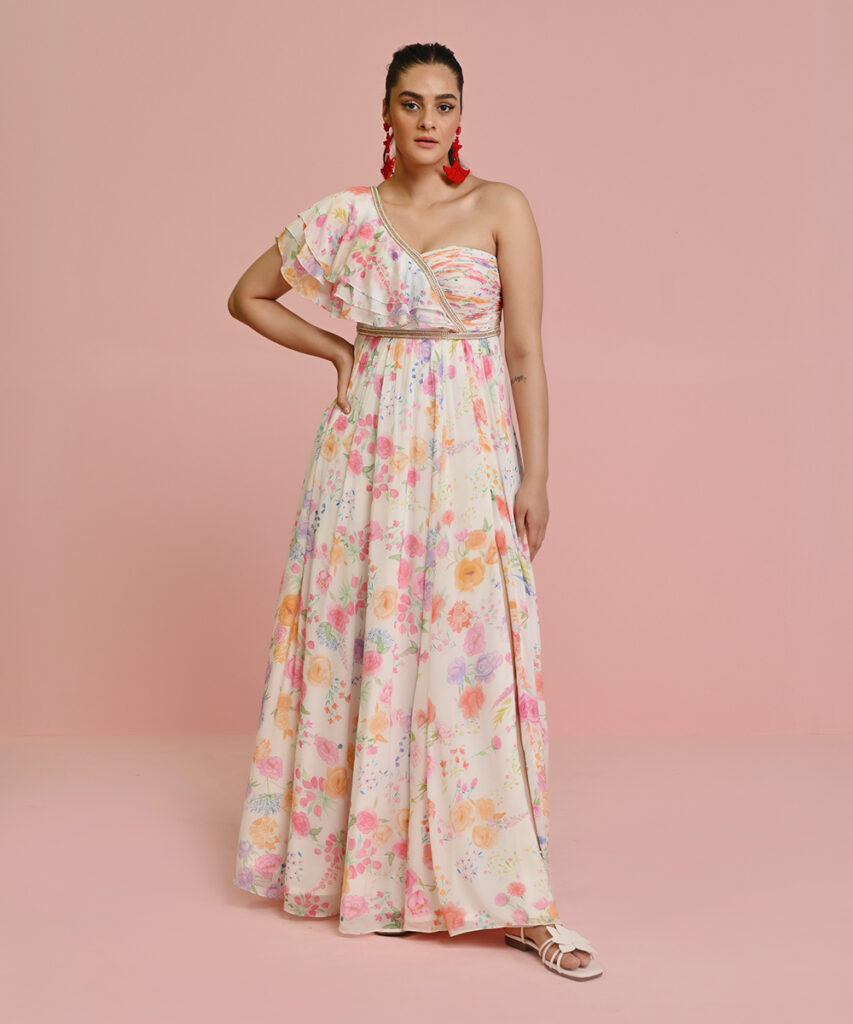 For your formal beach wedding, this designer Chamee And Palak Ivory Gown makes a lovely choice. Accessorize with delicate earrings, small handbag, kitten heels and you are good to go!
Quench A Thirst – Deep Red Modal Gown Set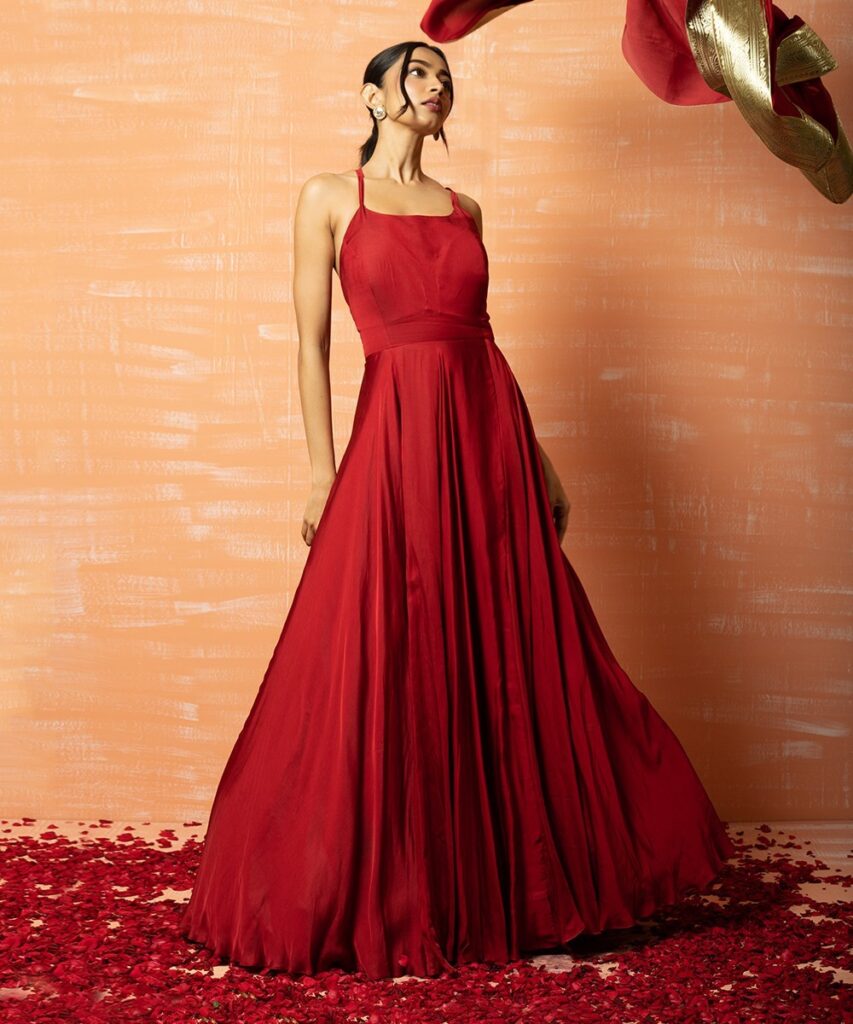 Deep red modal gown set the definition of formal wedding attire. Featuring a deep red gown in modal silk base. It is paired with a dupatta which has a zari lace border. With elegant off-the-shoulder sleeves, feminine oval neckline details and floor length skirts featuring side slits make this tall-friendly ideal gown.
Ritu Kumar – Elegant Red Jumpsuit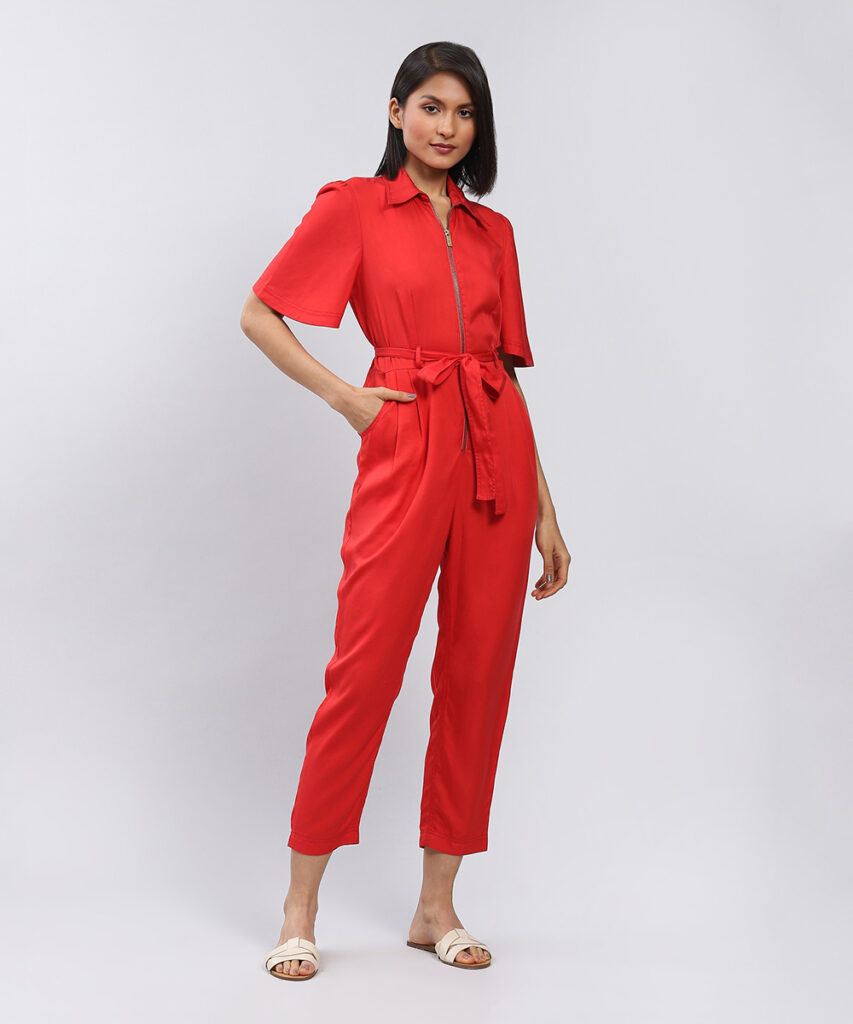 Ritu Kumar offers this Red Front Zip jumpsuit in sizes XS to L. This attire comes with a formal collar neckline with high rise pencil bottom pants. Its pockets and shiny hue makes an ideal attire for summer and winter season functions.
Designer Backless Fawn Gown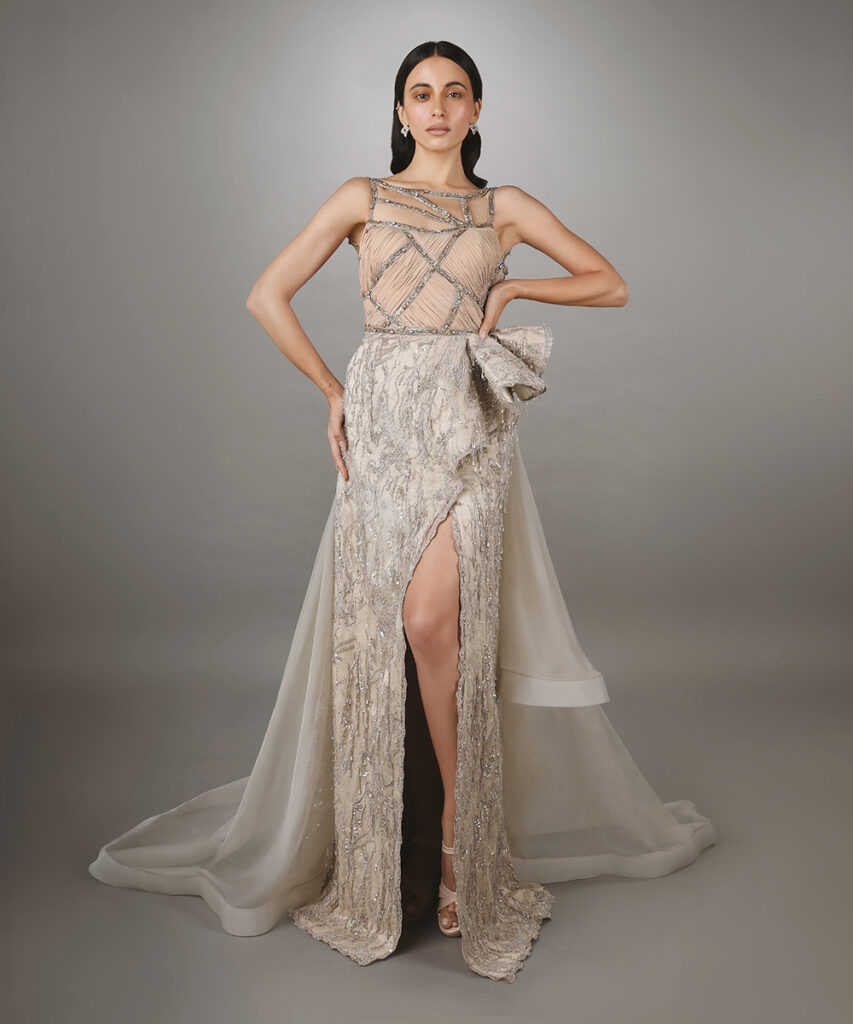 Fawn gown with embellished straps and ruching on the bodice featuring self embroidered drop tassels for an asymmetric ruffle and mid thigh slit.
Banarasi Silk Dress Jacket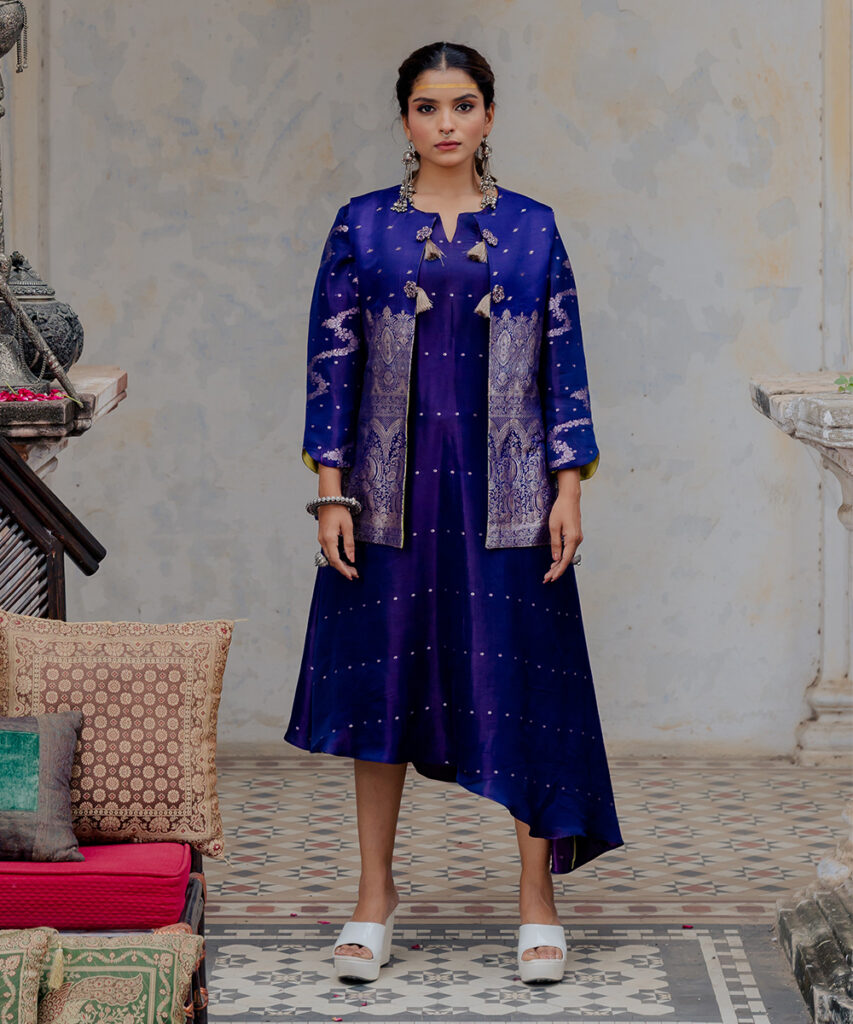 Banarsi has always been used to create striking ethnic ensembles. This outfit, designed to get a global appeal, also wanted to make it suitable for weddings and other social events. Here, a banarsi peplum top is paired with pure crepe cowl skirt and net cape for an incredibly versatile ensemble look.
Chictog – Off-white Vintage Whisper Dress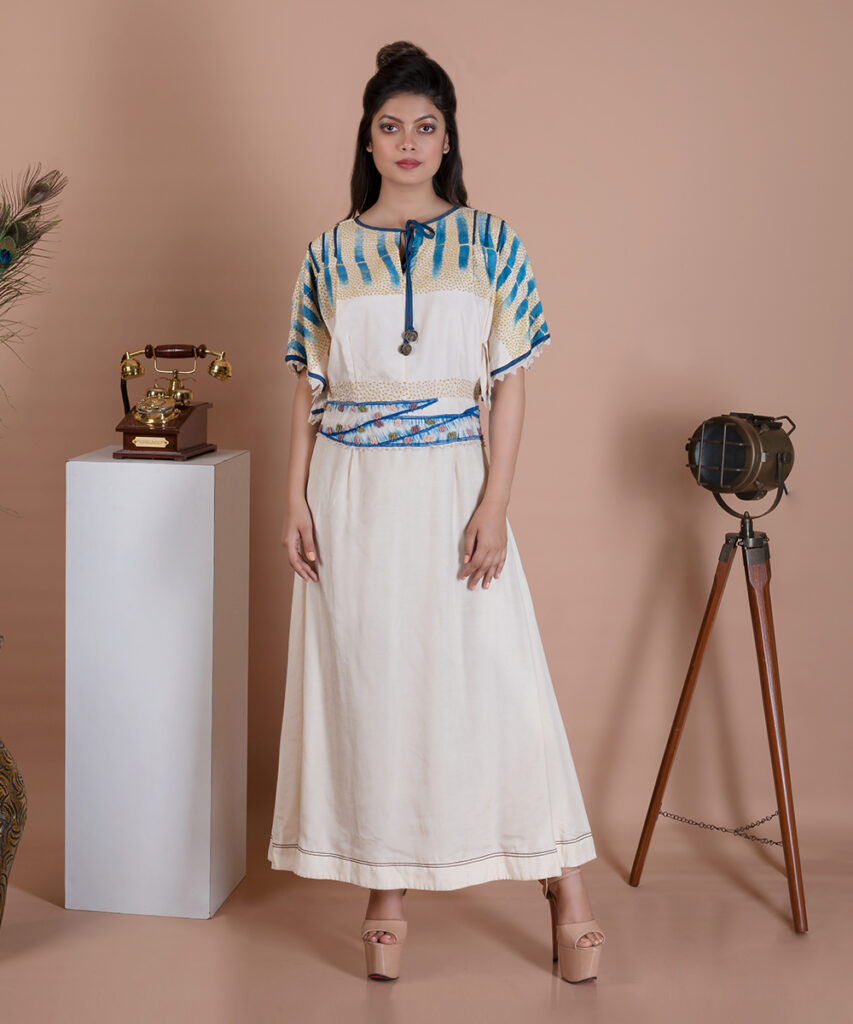 Off-white vintage whisper dress is a comfortable fit and features tassels on front edges; sold as is and contains hand work. Chictog offers this vintage whisper dress in sizes xs to 5xl for formal weddings and semi formal events.
Black Ponte Roma Skirt Set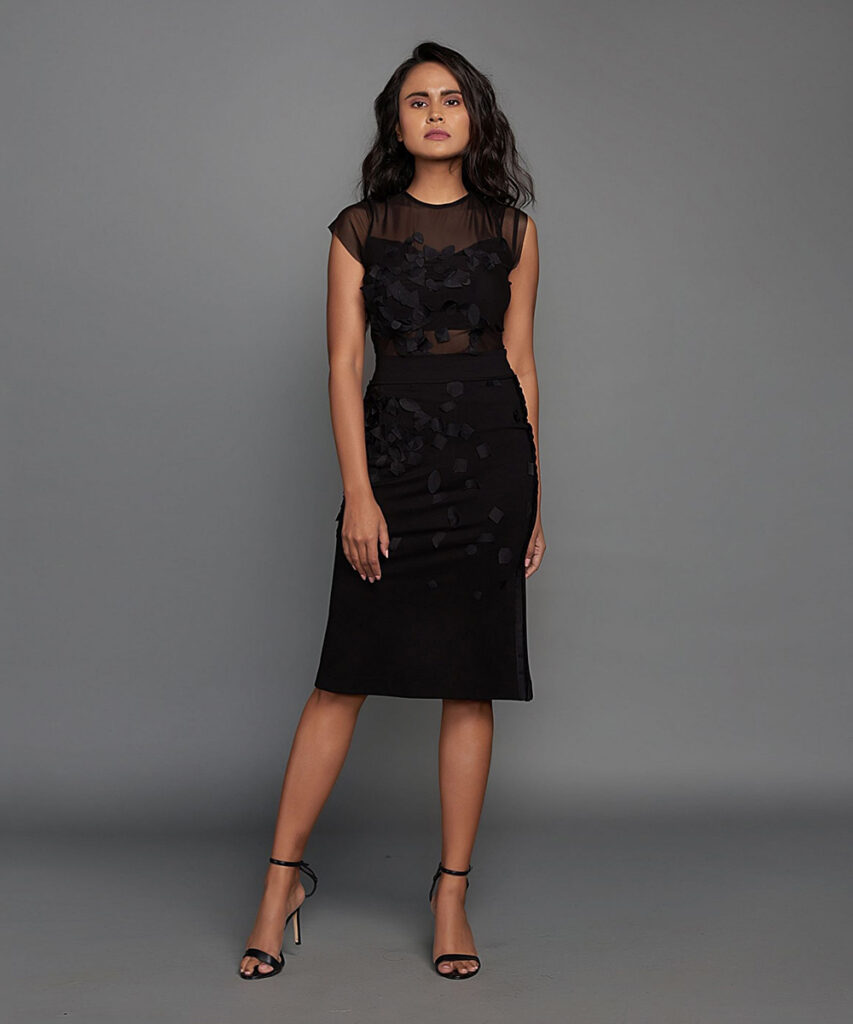 Co ord set of net body suit with attached bustier and patchwork detailing, as well as slim fit skirt with side slit and patchwork detailing. This outfit is suitable for weddings, meetings and office wear as well.
Black Beauty Kantha Pant Suit With Black Kantha Bustier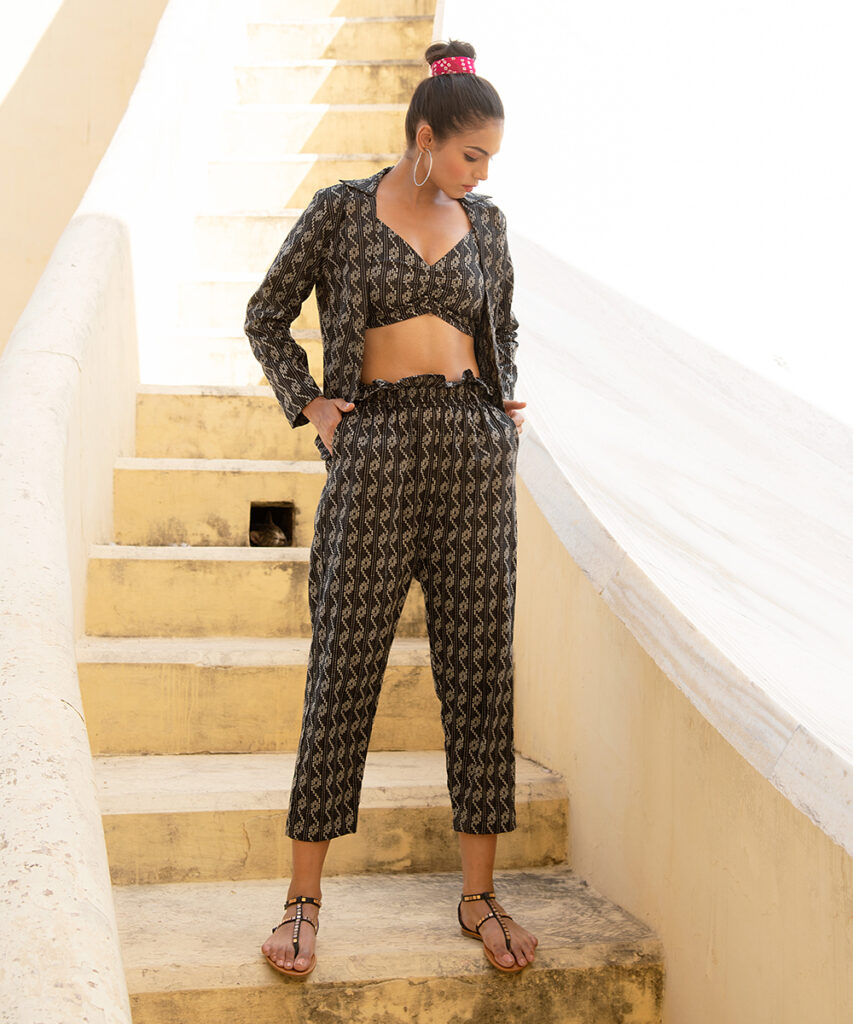 Black beauty cotton kantha pant suit is ideal for any formal or professional occasion when worn together with black cotton kantha bustier. Cotton cambric fabric provides a relaxed summer look, while a ruffled high waist belt provides a firm grip. Additionally, this pant feature two side pockets with elastic waistbands for comfort.
Accessories for Women to Add in Formal Wedding Outfits
When it comes to women's formal wedding dress, they wear accessories as well. These outfits include gowns / cocktail dresses that give stunning looks. Women Accessories such as shoes, statement jewelry, and a clutch purse will be paired with formal dresses to complete the look. So here we present some names of accessories for women to look stunning.
Formal Wedding Attire for Men
Formal attire doesn't have to be complicated. All it requires is perfecting the basics: a tailored suit, blazers, dress shirt and tie. For an appropriate formal ensemble, a luxurious fabric foundation with classic single- and double-breasted two- and three-piece suits should be worn. Casual fabrics with loud patterns and over textured finishes should be avoided in favor of rich worsted wools with high S numbers, blended noble fibers like alpaca silk cashmere or structured cotton or linen blend fabrics (depending on climate conditions).
Styling wise, 3-piece suits add depth to the formal attire. Single and double-breasted waistcoats are worn with single-breasted suits – and dark gray, burgundy, navy or dark blue hues are excellent formal choices.
Colorwise, classic black, gray and navy suits paired with crisp white button-up shirts are always appropriate in most combinations. Light shades like light green and brown also work nicely depending on the occasion. Keep patterns to a minimum by accessorizing with black or dark brown lace-ups made of plain leather, silk pocket squares and ties for an unforgettable look. You will love Men's suits and other Outfits – Check out below mentioned our formal attire.
Hilo Design – Blue Shawl Collar Blazer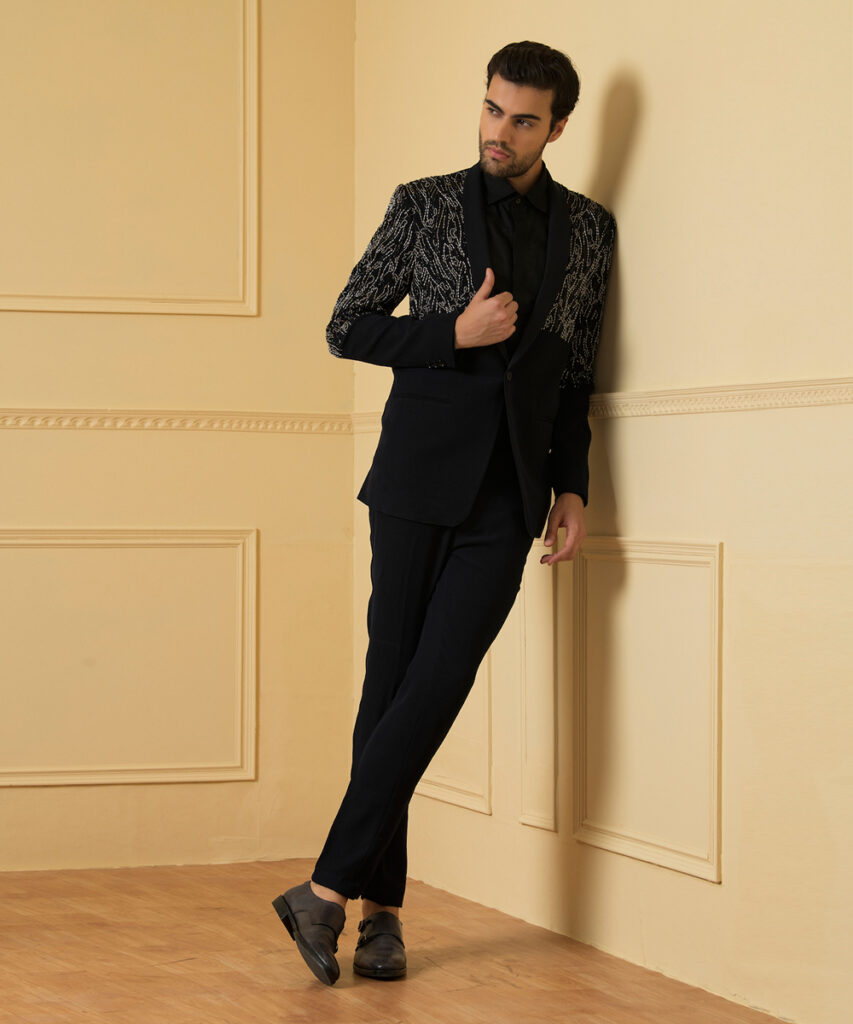 The blazer comes in a shawl collar for an elegant and deliberate touch. Its elegant drape complements the striking embroidery and silhouette of this blazer made from high-quality fabric with its rich blue hue radiating sophistication and versatility.
Black Sharp Blazer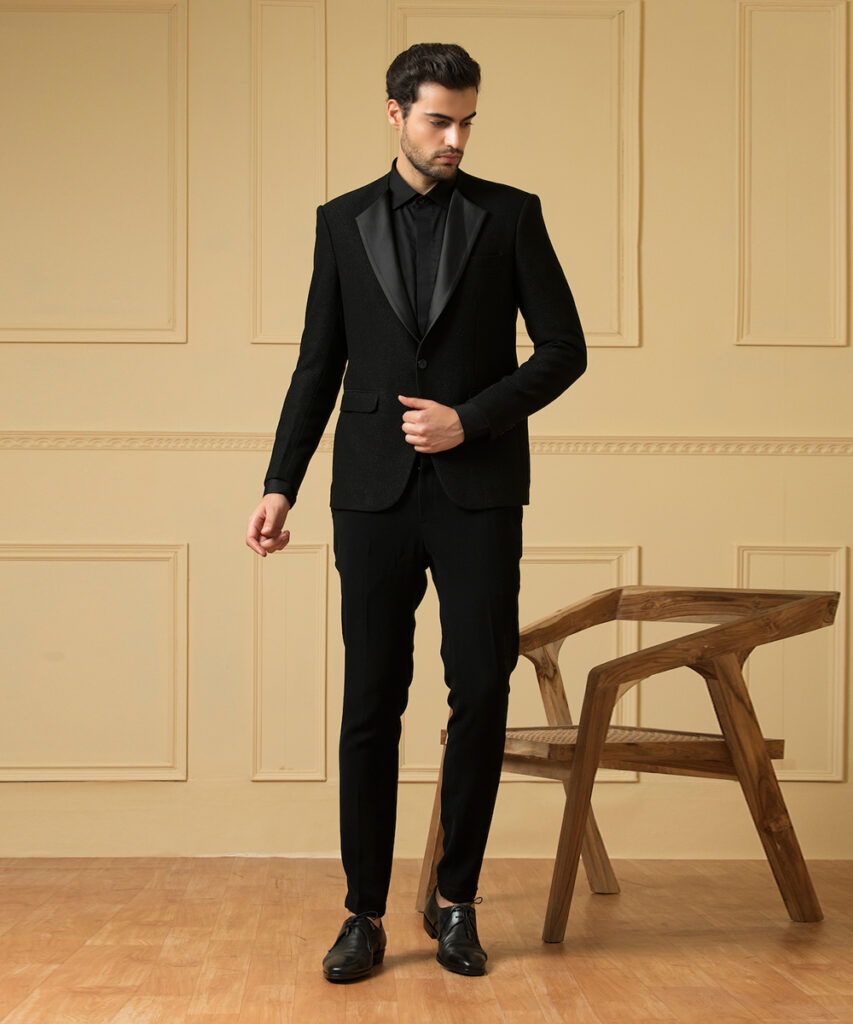 Presenting our latest addition to ethereal fits' collection: the collarless shimmer blazer. This outfit is designed to add an elegant look in formal weddings and other events. Its collarless design adds a contemporary edge while naple satin fabric creates a luxe.
Coin Grey Coloured Tuxedo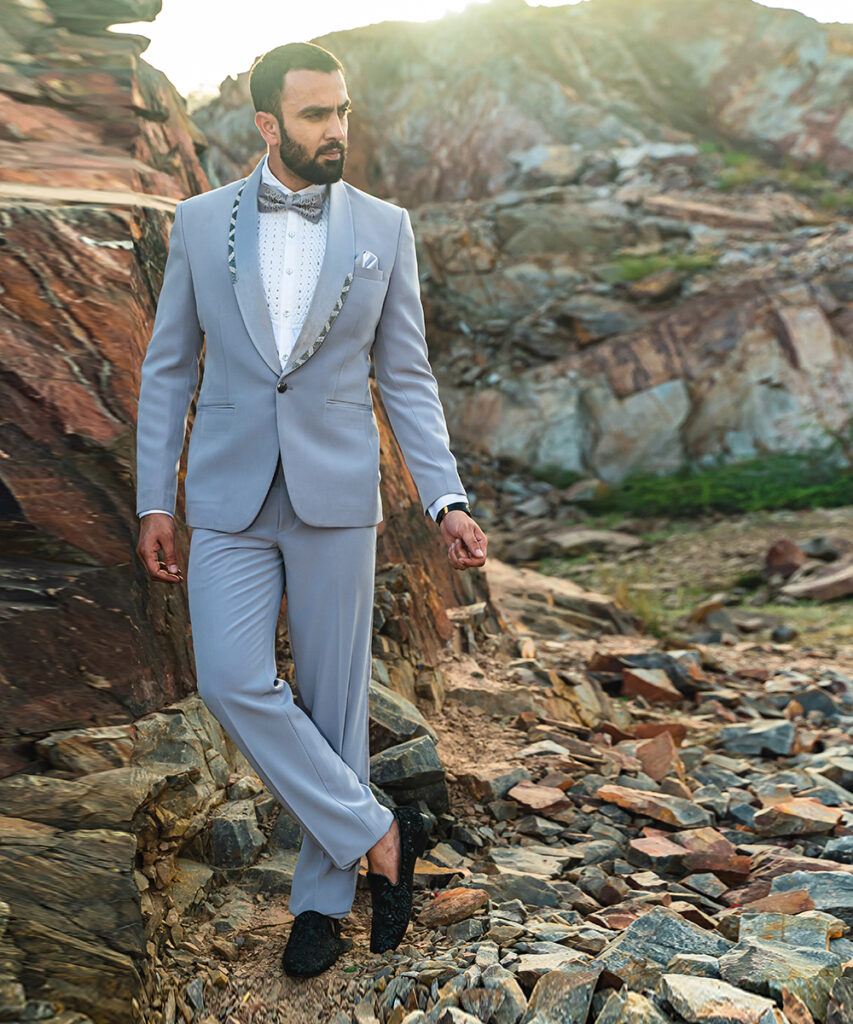 This timeless coin gray coloured tuxedo with contrast shawl lapels offers a sophisticated look on formal wedding attire for men. Although the price may be high, you can rewear this outfit to future weddings and upscale events if necessary. Complete your outfit look with accessories, pocket square, necktie and shoes.
Black Minimal Embroidered Blazer Set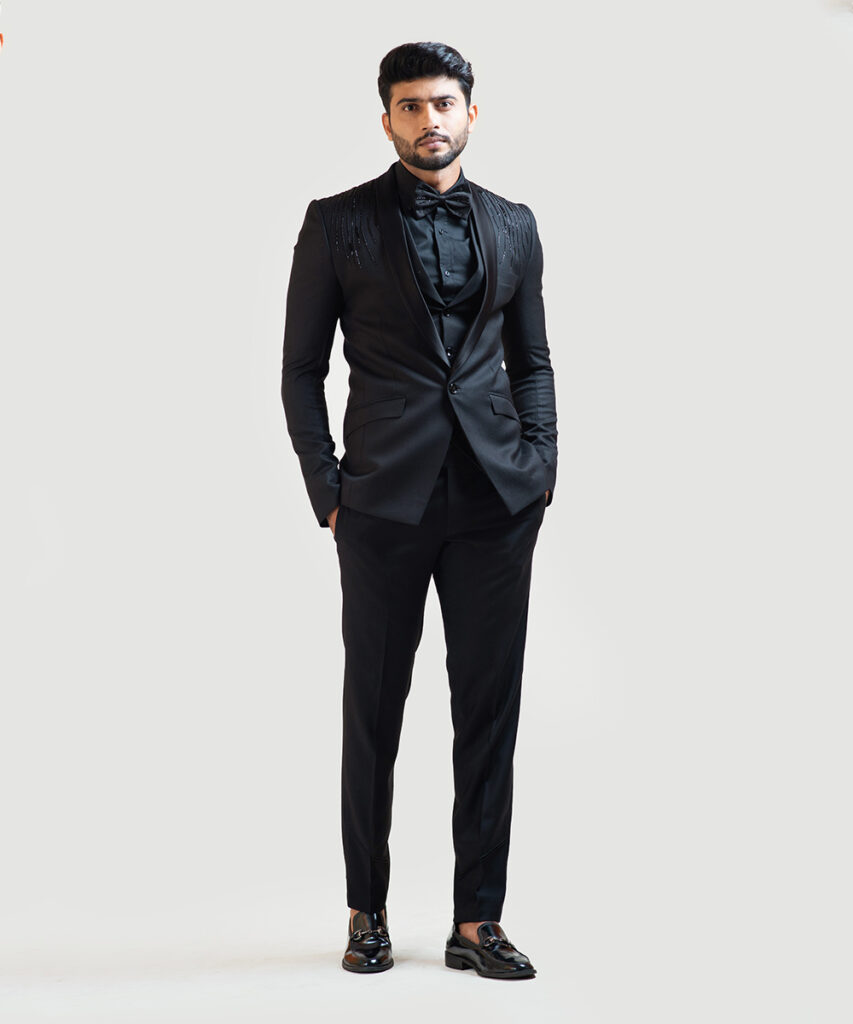 This black blazer features minimal line embroidery work done in kathdana on the shoulders with satin. Lapel is part of a three piece set consisting of black waist coat and narrow fit trousers; however, no shirt is included.
Shimmer On Tuxedo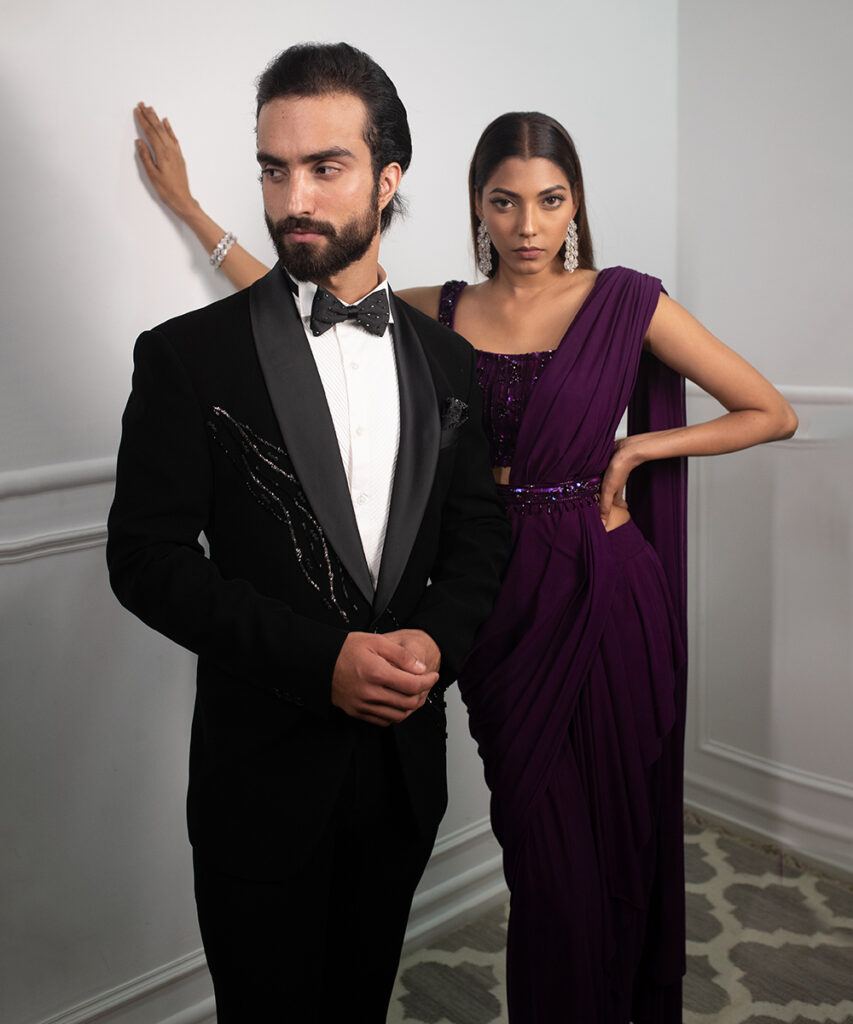 A jet black embroidered tuxedo with curved satin lapel, featuring diagonally placed embroidery detailing, comes with shirt,pants, bow tie and pocket square. Jet black embroidered tuxedo is ideal for any formal or professional occasion.
Classic Lusture Tuxedo Set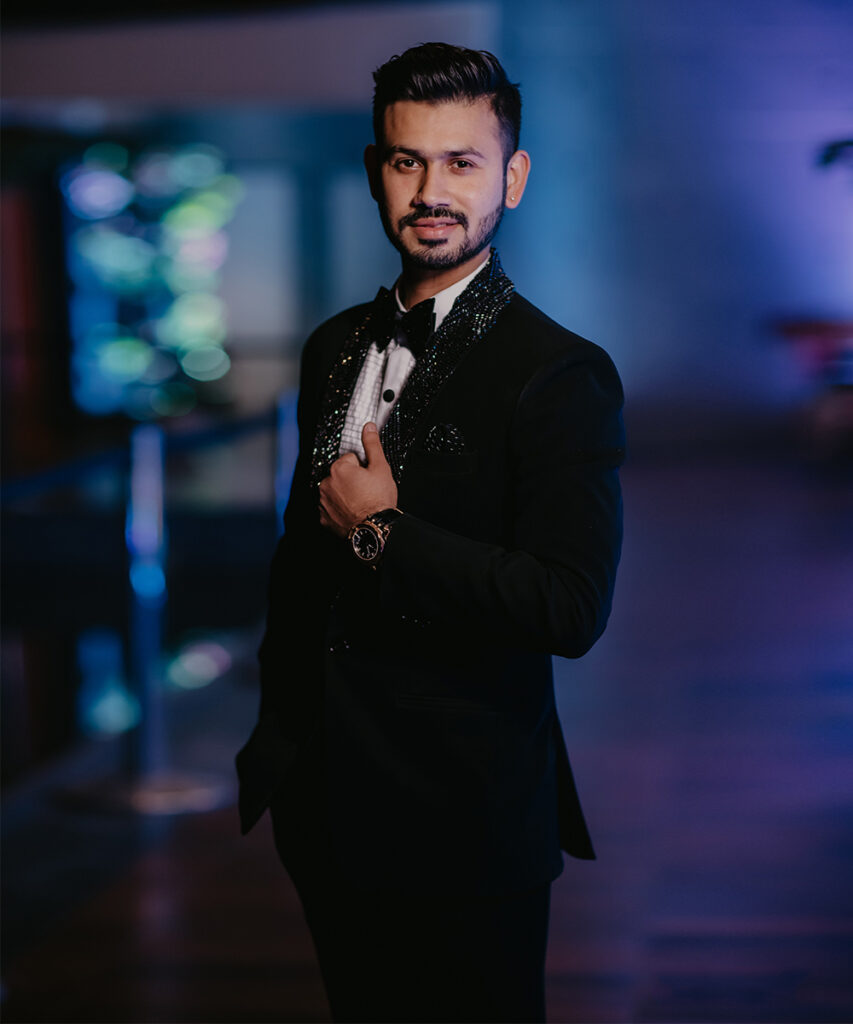 A classic black tuxedo having intricate cutdana embellishments on the lapel, we have used metallic silver and shiny black material to glam it up in wedding events and outdoor parties. It comes with a tuxedo shirt, pants, embellished pocket square and bow tie.
Paarsh Atelier Lush Coral Tuxedo Blazer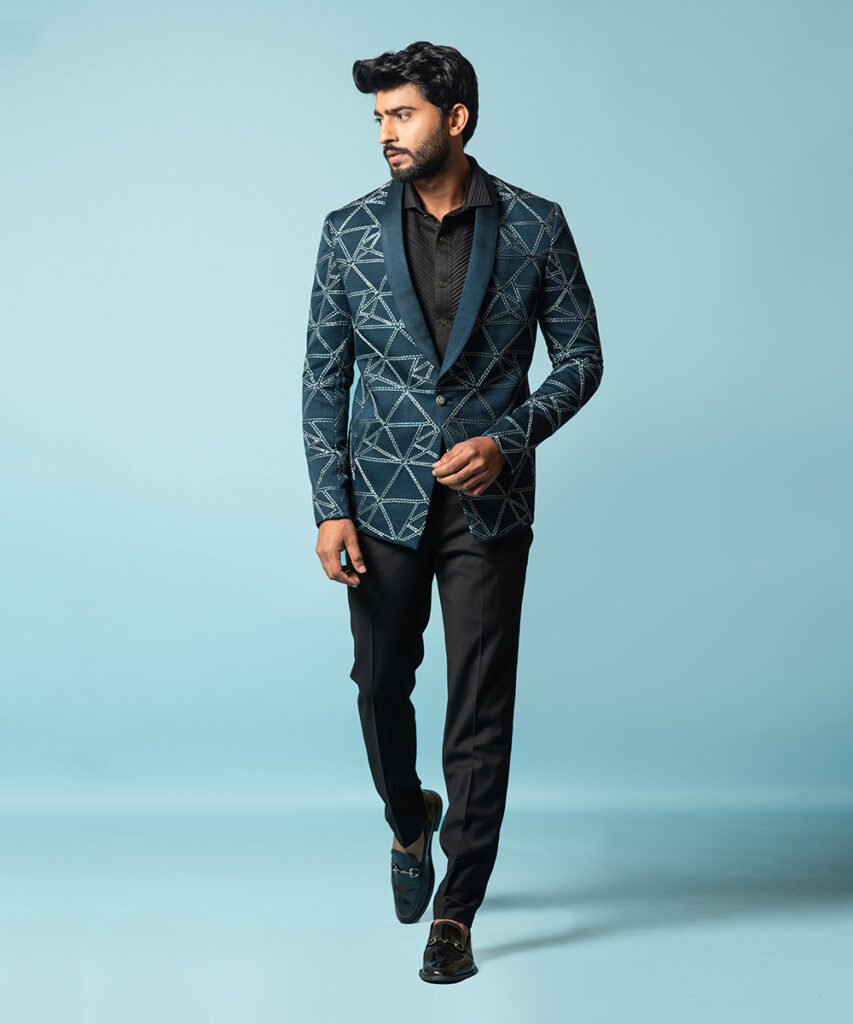 At a Formal wedding, your wardrobe should reflect who you are as an individual and be reflective of who they are as well. Be yourself by experimenting with patterns, colours, and textures; from wearing an extravagant coral Tuxedo Blazer, or keeping things casual with an open collared suit that showcases who you are as an individual.
Black Cotton Two Button Blazer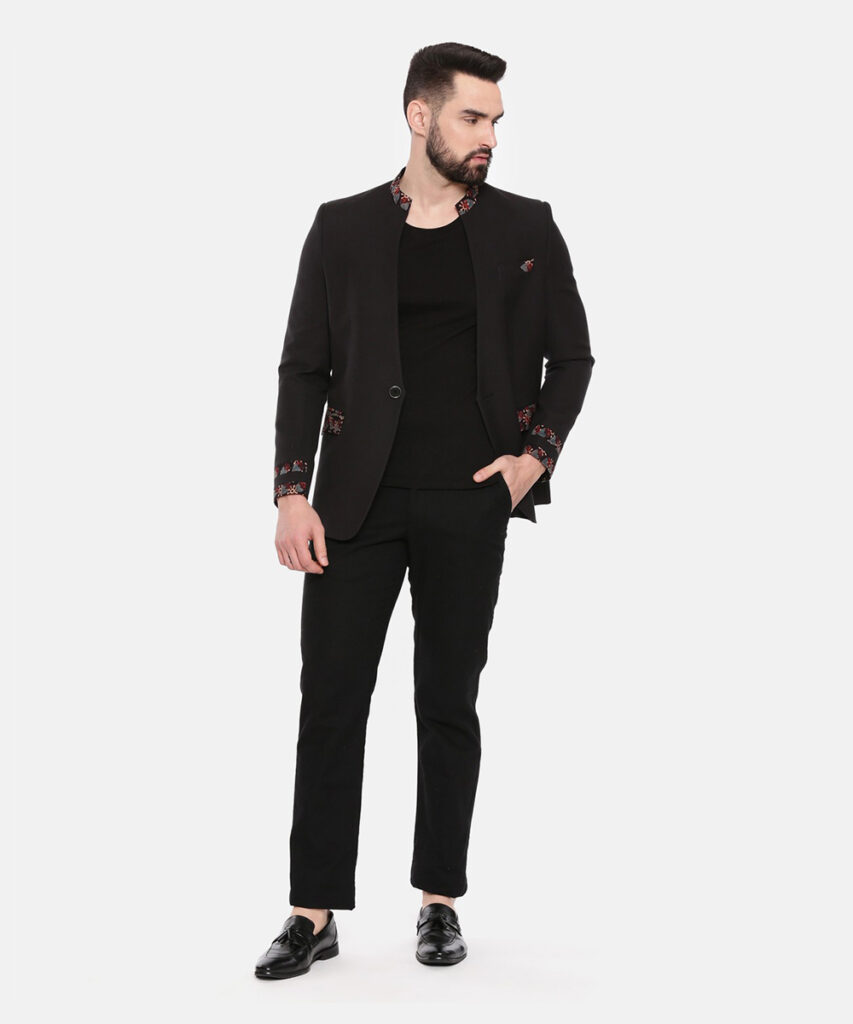 Cotton black is another superb color for formal wedding attire. The single-breasted Two Button Blazer features peal lapels, padded shoulders and a single button fastening with graphic floral-printed lining. While regular rise pants with skinny fits are available in this captivating hue.
Blue & Black Silk Lenin Blazer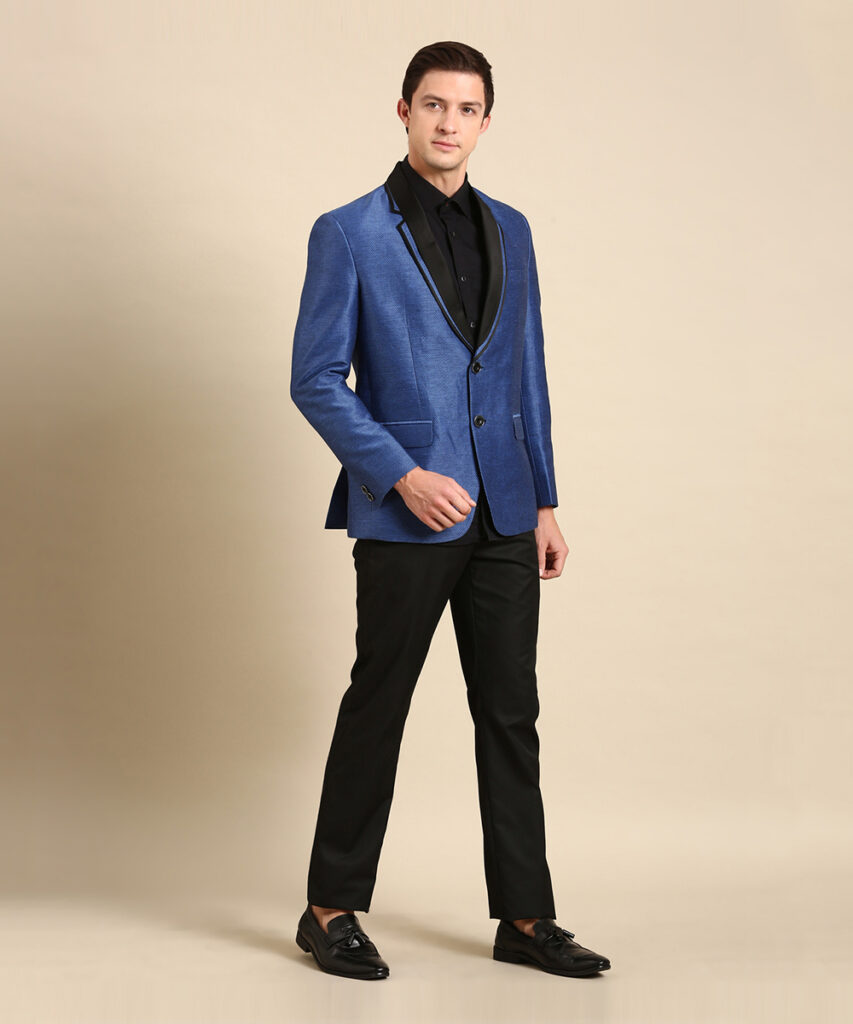 As part of formal wedding attire for men, the Silk Linen Blazer with Blue & Black hue is the ideal solution. Simply select your size before accessorizing with silk pocket square, necktie and loafers for a complete look.
Men's Printed Bandhgala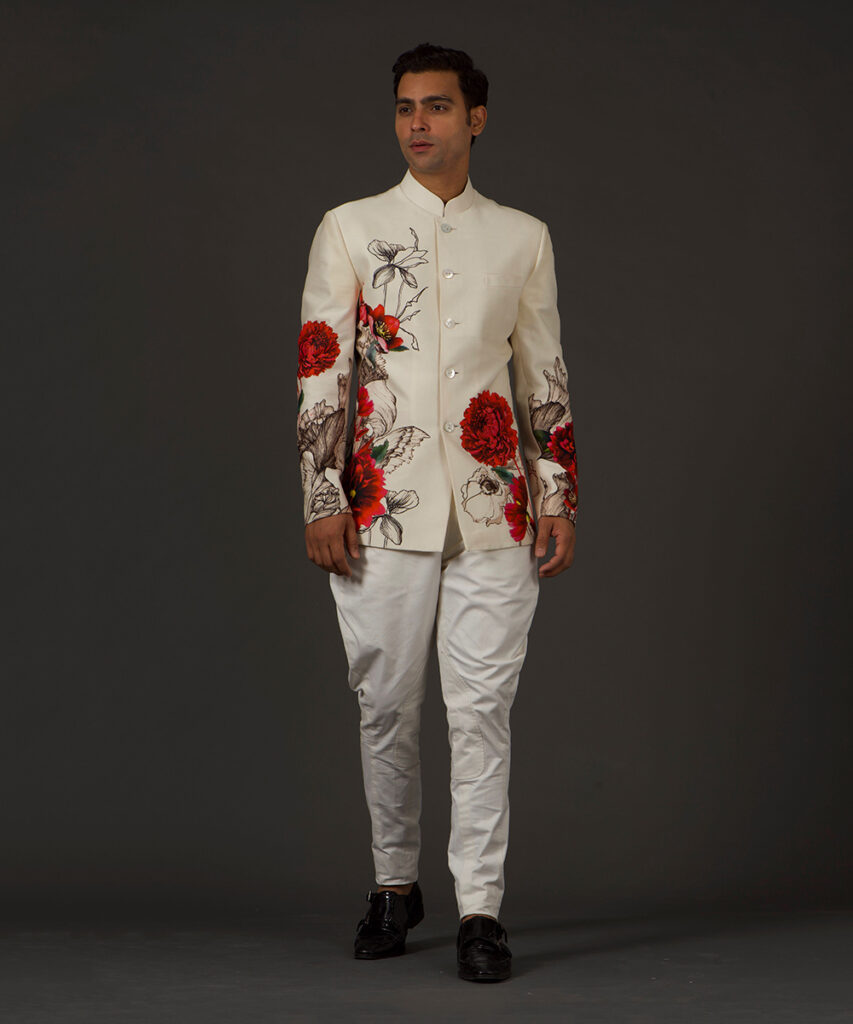 Many Ivory Linen Printed Bandhgala employ silk blend fabrics in their suits to provide a lighter skin-feel, yet maintain an authoritative formal appearance. No one may notice the difference between silk-blend and wool fabrics unless they know them intimately, yet using these extra luxurious and comfortable options adds elegance and makes any event memorable!
Accessories for Men to Add in Formal Wedding Dresses
Why are suit accessories for men necessary? Accessorizing an outfit should always be top priority! When wearing or purchasing a suit, these questions often arise and our answer would always be: the suit itself is the cake; men accessories provide its icing and make for the cherry on top!
One of the best features of suit accessories is that by switching up their style and adding different pieces to it, they will change up your appearance every time!
So here we present names of the formal outfit accessories for men to add dashing details to their look.
Here are Some Key Considerations To Select Attire
Selecting formal wedding clothes is like choosing an outfit for a super important event. On this important day you definitely want to look superb and you have to feel yourself. Here are some tips to select the special important outfits for a formal wedding.
Invitation, Theme, & Color:
Check whether the invitation has Theme or color. A beach wedding outfit is different from formal wedding attire. Try something like a blue, golden or other colors based on theme and color.
Be Comfortable & Stylish:
Womens/ ladies can find a pretty dress that helps to move easily. Men's/Guys can select a suit or tuxedo that fits perfectly and for a perfect look.
Consider Weather:
When you buy wedding Dresses you have to consider the season. For summer, thin clothes make you comfortable and darker. heavy clothes are better.
Show off Your Style:
Add Some bright colors to outfits if you love to add. Dress up in simple or stunning clothes to show off and to look good in weddings.
So, When you get ready for a formal wedding,  remember to check the theme, color, comfort, and weather to make you feel best and to gain the attraction of the crowd in weddings.