If there is one designer we know who has built a niche for himself in the menswear collection – it's none other than Jatin Malik. He is the maestro of high-end ensembles with a clear vision, a global appeal, and a passion for staying involved and evolving his work over time.
He overcame critics and self-doubt, and committed five years of his life to establishing India's most iconic menswear brand. His rigour led to him getting enormous recognition for his debut collection in 2016 and he stole hearts at the Milan Fashion Week in 2019.
When asked about his decision to be a designer, we were awestruck to know it all started with Jatin designing his own uniform!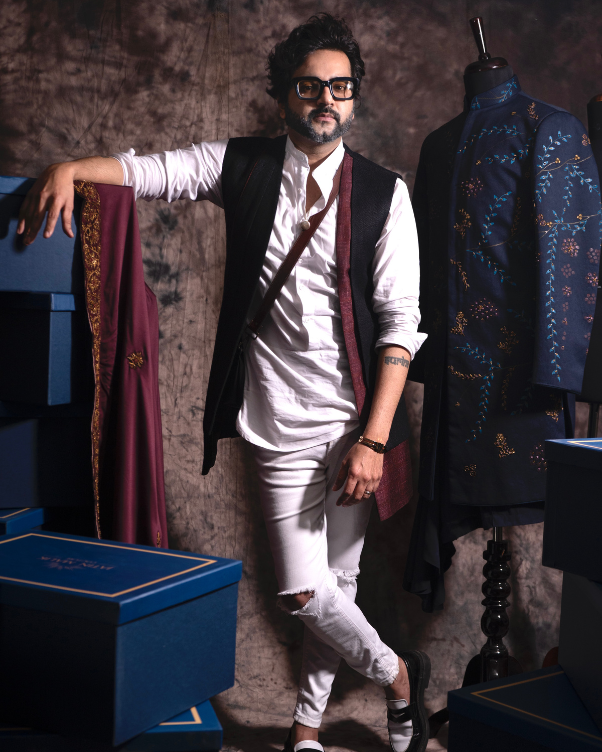 He said, "I have always been inclined towards designing, that's for sure. I have been designing clothes since I was in 9th or 10th standard. I think I started designing my school uniform in a manner that I particularly liked and got reprimanded for the same and so the keeda was always there. So there's no particular thing that made me decide that I want to be a designer. The passion for the clothes and the passion for the job that I do is immense. I can't even think of doing anything else other than this. So that's what made me choose to be who I am right now!"
This answer made us curious to know more about his passion and what made him choose menswear as his niche. He said, "The final push, I think, came after I was done with my MBA and everything. I wanted to start something which is missing from the industry. And when I researched, I chose a different sort of genre that I dabbled with when I started designing clothes. But when I found out the loophole or the problems grooms usually face in industry, that's what actually pushed me in the direction that the brand is headed right now or the brand is present right now."
He further elaborated about his brand and his collections, specially Pablo that's become the talk of the town! He said, "Pablo has been a headturner, a game changer. The biggest collection that I have ever produced till date. And the response that we have gotten is humongous. I didn't expect it, but the name that we assigned to the collection and the inspiration that we took, I had an inkling that the response would be positive. But the kind of love I have been given for this collection is way out of my imagination. I didn't expect that much love. "
When asked the inspiration behind the name of the collection, he said, "As far as the inspiration and the Pablo collection is concerned the inspiration is obviously, as the name suggests, is from Pablo Picasso's work, his main art form, which is Cubism."
We were curious to know how Pablo is different from his previous collections, "For VISM, we took cubism very thoroughly for this particular collection. So if you see the embroidery palette of this particular collection we changed a lot of shapes. We used a lot of square shapes, we used a lot of cubes.We normally dabbled a lot with flowers and typical landscape embroidery. But this time we wanted to actually completely dedicate it to Pablo's art form. So a lot of things have been derived from there. And we used a lot of colours also this time differently than what we usually use. So the collection consists of roughly around 65, 60 pieces. And there are three to four categories that we normally divide our collection in. And the last category, which is not a part of the whole collection but which is like an inspiration sort of mood board of the collection. And that's what your concept looks like. So if you go by the concept, the whole inspiration is defined onto the cloth through our take on Pablo's cubism. So that's pretty much about it. And we have designed the whole collection in a manner that you'll get everything for everyone. So not just grooms. So that was the key intent before designing the collection this season.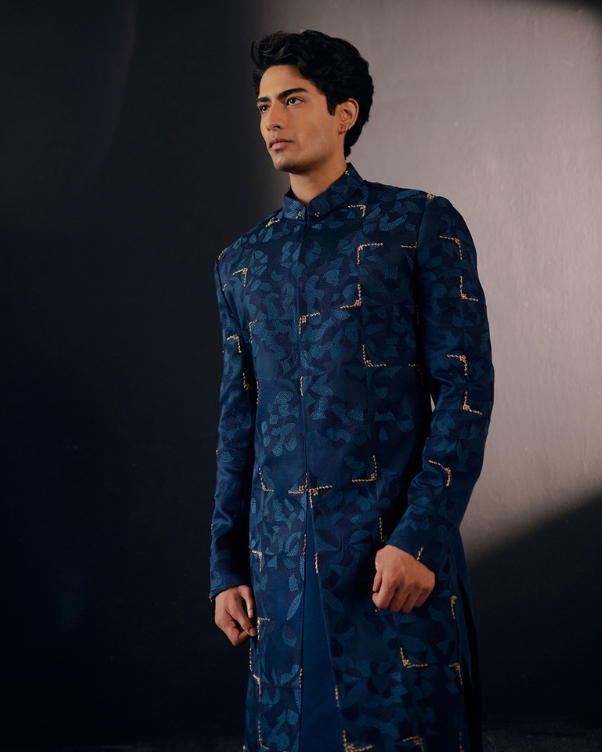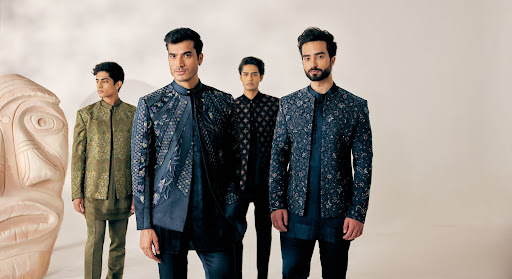 Many other fashion brands are offering menswear couture collections but how is JMC different? Nishtha Bansal from Jatin's team replied, "I believe we are the only design house that focuses on "Men" or "Grooms" for that matter. Nationally and Internationally, the biggest of all fashion houses focus more on womenswear or both. The reason we only focus on Menswear is because all the R&D that goes in the process has a single focus on a segment which is not paid much attention to in the Fashion industry. We know, in that case, what we provide as an end product to our clients comes with an attention to detail."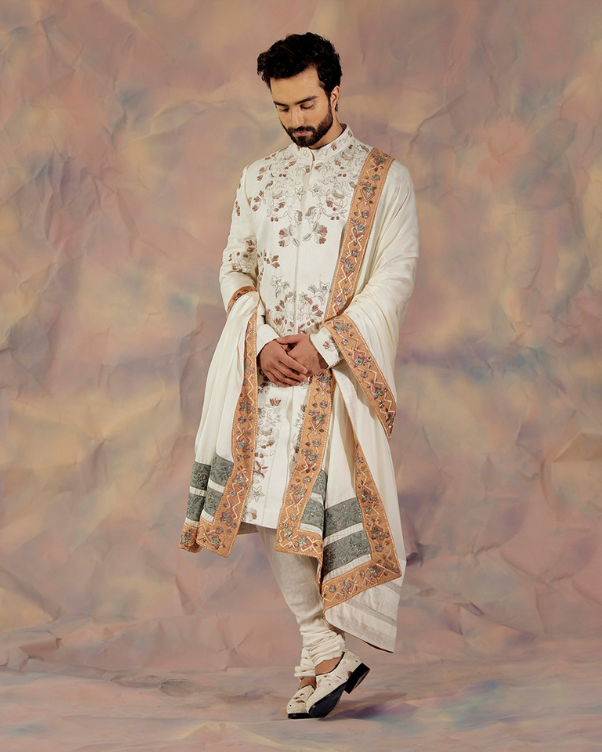 We asked him about his thoughts on the fashion industry being more inclined towards womenswear and not menswear. Gitanshu from Jatin's team replied, "I somehow do not completely agree with the statement. The times have now changed in a way no one anticipated and we have been the first hand witness of it. The industry is now being taken over by passionate creators, people who know and understand how to provide value to their customers. That's the future, that's simply the only way any brand could survive and lead."
When asked how he foresees the future of fashion, he got his team together to answer this because this man believes in teamwork. His team shared their thoughts with us. One of his team members, Gitanshu shared something which have to keep in front the world as that's the kind of forward thinking they have. He said, "With everything going Digital, the next step for fashion is definitely going to be the digital space, with Metaverse and other innovations. The world now seems more like a small town. Everything is as accessible as a grocery store and which is a good thing in a way because fashion is now accessible to more spaces than it has ever been in, before."
Since we are talking about breaking stereotypes, shouldn't the new age grooms wear something different for their wedding? Gitanshu said, "Definitely something fun and different. I believe that now is the time where the new age grooms not only have to start looking for something other than beige and ivory, but also go for outfits which have some drama happening. Something like a Short jacket for example, is not only light but very different from the usual wedding ensembles."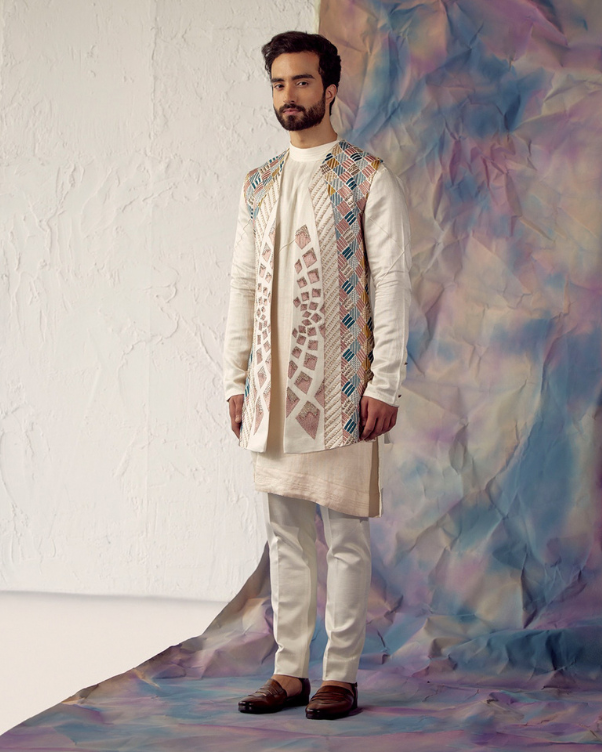 After a long chat about his brand and his collection, we wanted to know more about Jatin as a person and what a typical day at his workplace looks like.
He said, "My typical day at work is not fixed. Actually, that's the reason I chose this field because I am not a guy who will have a fixed routine.
So some days when a collection is in the production, I usually start my days at the factory. When the collection is not in production, I usually stay at my office. I joke around in the office that I am a hardcore production guy. I only design three to four months in a year. But the kind of collection and the stuff that we are producing for different cities or verticals or accessories, new categories are coming along too!
So now I am getting to design a lot more. So I usually start my day at the office and sit down with my marketing team. I sit down with my production team and when it's the collection time, I stay most of the time in my factory.
So that's how I usually start my day, spend my day.
But what's that one thing that you look forward to on a typical work day? He said, "I think it's designing clothes. I love to get any chance that I get to just sit with my sketchbook and design something new for the upcoming collection or even if there is no collection in my mind. I sketch a lot. I just keep designing something and I don't design basically the collection in mind. That happens when you have a fixed time schedule also. But I just sketch my heart out sometimes and if I like something later on and then I keep going back to my sketchbook to take that one sketch that I drew maybe six years back that I can use for this particular collection or so that's like the bestest part of my day.
When asked who does he turn to for honest feedback, Nishtha from Jatin's team said, "His core team at JMC, and our JMC Clients, most definitely. He believes we are his biggest appreciators and the biggest critiques, and the feedback comes from being real-time shreds of evidence. The number of hours he spends with his design team, indulges into the process as deeply, listening to all counters and then finally creating a product, I think the clients and the team provides the only feedback he seeks."
That's interesting! And what's that one thing that people don't know about Jatin? Jatin left this to his team to answer. Gitanshu promptly said, The fact that I have not learnt designing from any of the prestigious Institutes, it's my passion which has created this brand. I had a weird obsession with challenging the status quo. I want to do things differently from societal norms, which has always made me a risk taker and made the brand what it is today, under my supervision.
We all have some favorites / rather admire someone for their style. Who according to you is the best dressed celebrity (dead or alive)? Nishtha promptly replied, "Pacho Jaipur, I think everyone in the brand absolutely loves his style. The way he carries his ensembles with such class and ease, making it look so effortless. Hands Down one of the most well-dressed Indians!"
He further shared his thoughts with us on how one can become a successful fashion designer. Budding designers, please take notes!
"I believe it is passion that counts. You should love and understand fashion, and must be willing to create something that the industry has not yet offered. That's the only way to stand out from this oversaturated market." says Nishtha.
Choose between myriad ensembles displaying hand-painted details, embroidery collages, and a monochromatic space blue palette. Check out Jatin Malik's collection on www.mirrawluxe.com/jatin-malik now!