The lehenga saree is having a major moment in Indian fashion right now. This gorgeous fusion garment combines the drama and flair of the lehenga with the graceful drape of the saree. With weddings, festivals and parties coming up, it's the perfect trendy yet traditional ensemble.
But wearing a lehenga saree with finesse does require some styling skills. Between draping the dupatta, pleating the skirt just right and accessorizing, there's a lot more to it than just slipping it on!
As a hardcore lehenga saree fan, I've picked up many style hacks from my trial and errors. In this article, I'm spilling all my top tips to help you slay the lehenga saree game this season!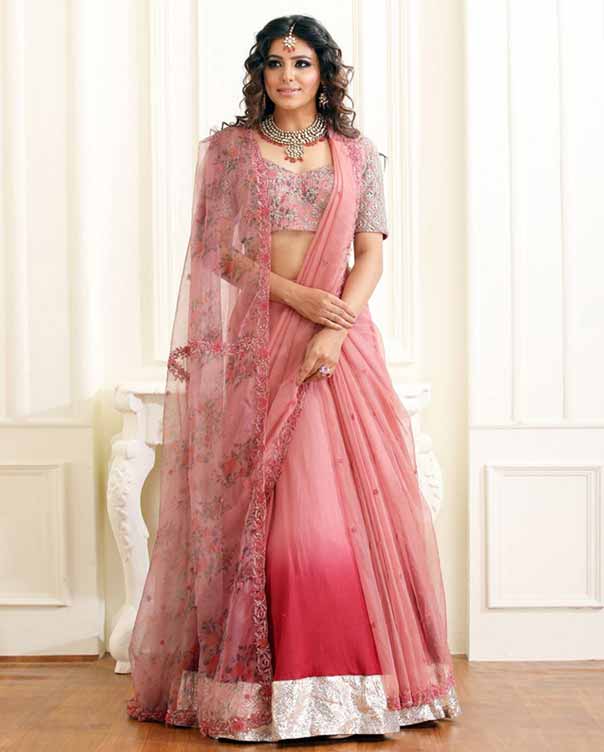 Choose the Right Lehenga Saree Fabric
The fabric of your lehenga saree plays a big role in how well it hangs and moves. Stiff cottons, raw silks or too-sheer fabrics won't create the desired dramatic effect. Instead opt for:
Lightweight Chiffon or Georgette – These flowy fabrics pleat beautifully to create those rippling lehenga skirts. Chiffon especially has a sophisticated fall.
Crepe or Silk – Crepe can hold pleats sharply yet has movement. Silk offers richness and makes a luxe statement.
Go for ornate embroidery, zari/zardozi work or metallic fabrics to amp up the opulence!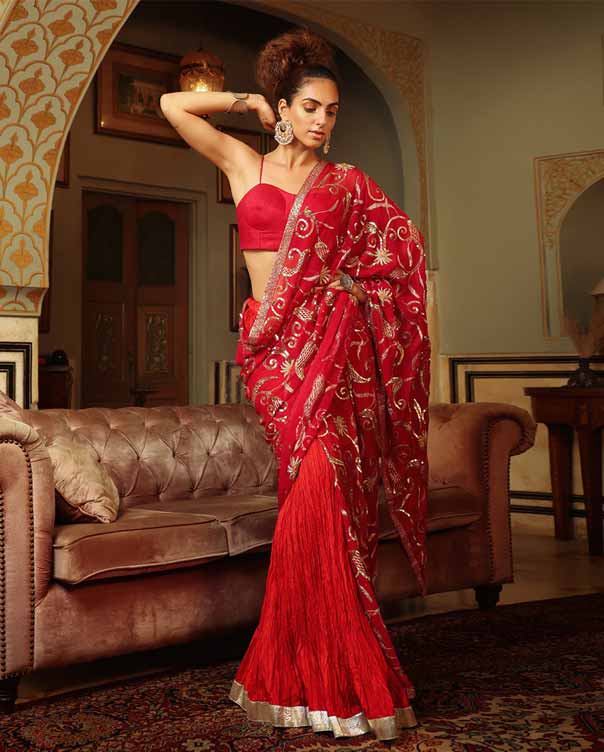 Get the Fit Tailored to Perfection
A lehenga saree needs to be tailored impeccably to flatter your shape. When getting it stitched:
Opt for a choli style blouse over a standard saree blouse for the perfect shape.
Make sure the choli, skirt and dupatta lengths complement your height.
Ensure the waist fits snugly so the gathers sit right.
Have multiple fittings to ensure the final outcome is accentuating your best features.
This attention to detail makes all the difference in the draping and overall look!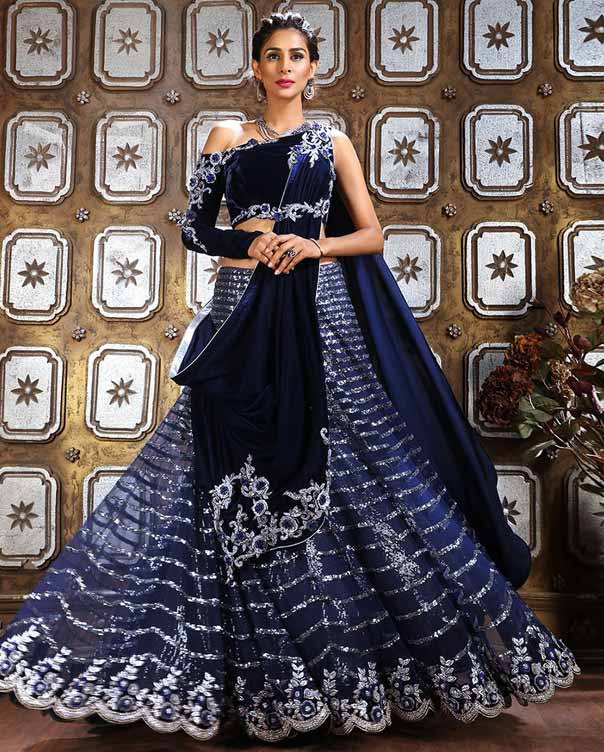 Style Your Lehenga Saree with Statement Jewelry
Lehenga sarees call for maximalist glam dressing. This is the time to bring out your OTT jewelry!
Stack up your wrists with a collection of bangles in contrasting metals and gemstones.
Dangle an ornate pair of chandelier or jhumki style earrings.
Adorn your neck with a MATHA PATTI and sleek choker necklace.
Add rings with colored stones and kadas to your fingers.
Don't forget a pretty mathapatti or maang tikka and a gajra flower braid!
Keep the overall vibe bold, opulent and bridal.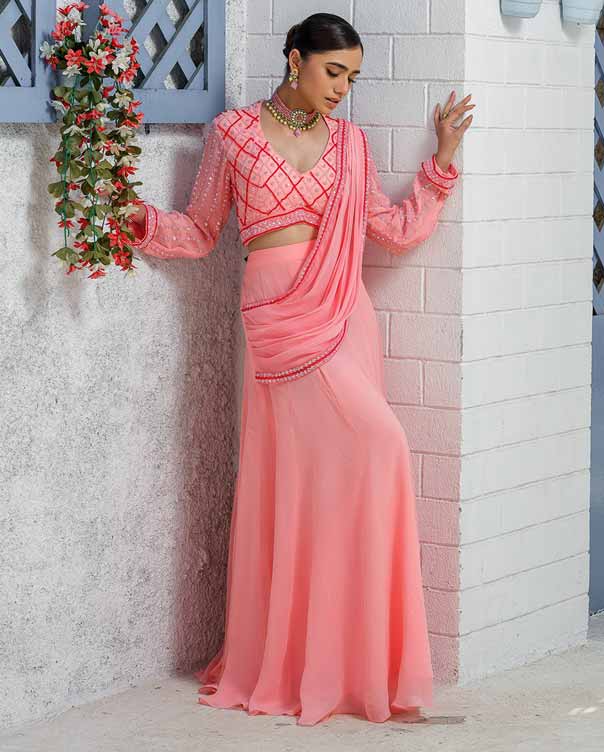 Master the Art of Pleating and Draping
The pleats and drapes make or break the lehenga saree look. To get it right:
Use 4-5 inch wide pleats for the classic style. Go up to 6 inches for more volume.
Make sure pleats are neat, tight and equidistant. Loose messy pleats won't cut it!
Secure the pleats at the waist with pearl tipped pins.
Pleat the entire length of the lehenga saree to maximize fullness.
Drape the pallu elegantly over your shoulder in different styles.
Let the back dupatta end billow out loose. Avoid tucking it in.
Pleated to perfection, your lehenga saree will have that swoosh factor when you walk!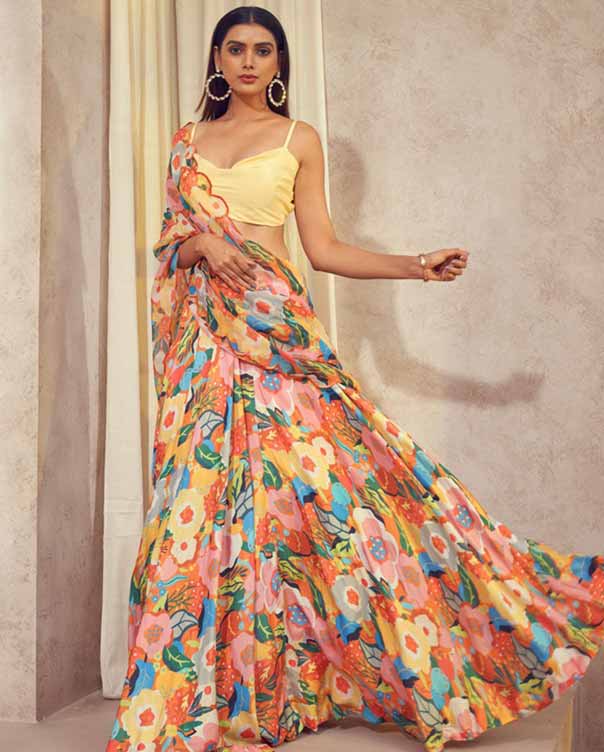 Strike a Pose – Flaunt Your Lehenga Saree!
Now that your lehenga saree is draped to impressed, it's time to work those photo op poses!
Do a slow twirl to show off the flare of the skirt.
Place hands on hips and pop your shoulders back to accentuate your silhouette.
Hold the dupatta edges ever so delicately to add grace.
Gently sway as you walk to let the dupatta trail behind elegantly.
For portraits, look over your shoulder with a coy smile.
You'll have the paparazzi eating out of your hands in no time!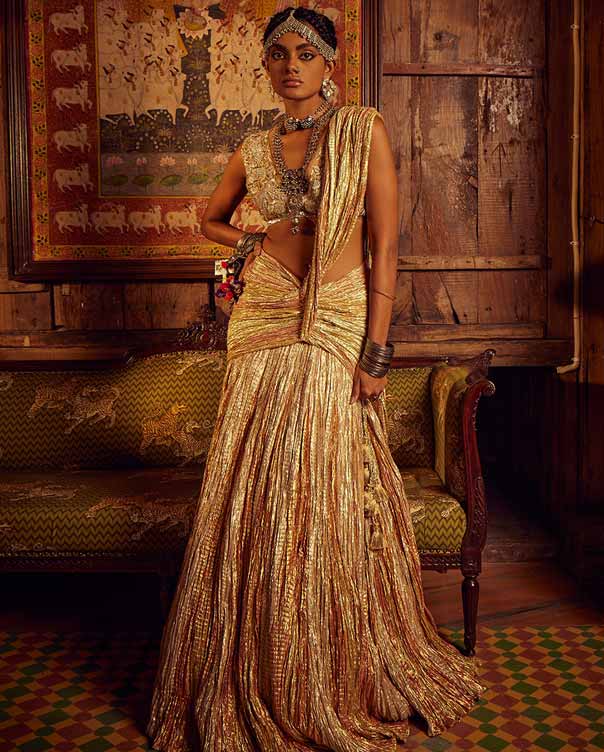 Pick Stunning Colors and Patterns
Lehenga sarees look most stunning when the colors pop. Some fail-safe combinations include:
Bright fuchsia pink with gold embroidered details
Vibrant turquoise and deep magenta for contrast
Tradition red and green with a modern twist
Olive green with multi-colored floral motifs
White and silver for a contemporary luxe vibe
Unconventional neon green with purple pallu
Earthy mustard yellow paired with indigo blue
Regal maroon and golden combination
Benarasi style lehenga sarees with intricately woven designs
Experiment and find hues that complement your complexion. The bolder, the better!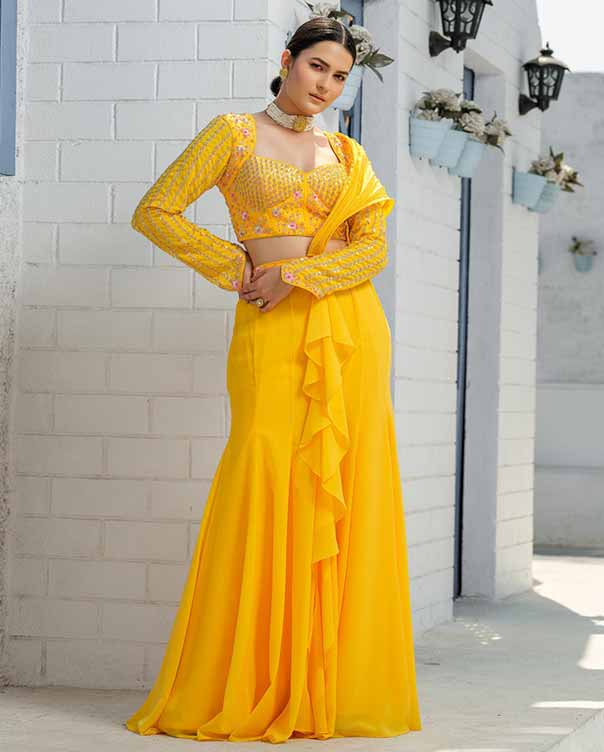 Accessorize with Statement Earrings
Earrings can take your lehenga saree look from 0 to 100 real quick. Avoid small studs and go for bold dazzling earrings like:
Long tassel or chandelier earrings
Statement chandbaalis dangling to the neck
Intricate jhumkis encrusted with kundan stones
Oversized gold earrings with precious gems
Peacock motif earrings crafted from colored stones
Matching your earrings to the color scheme of your lehenga saree makes the biggest impact.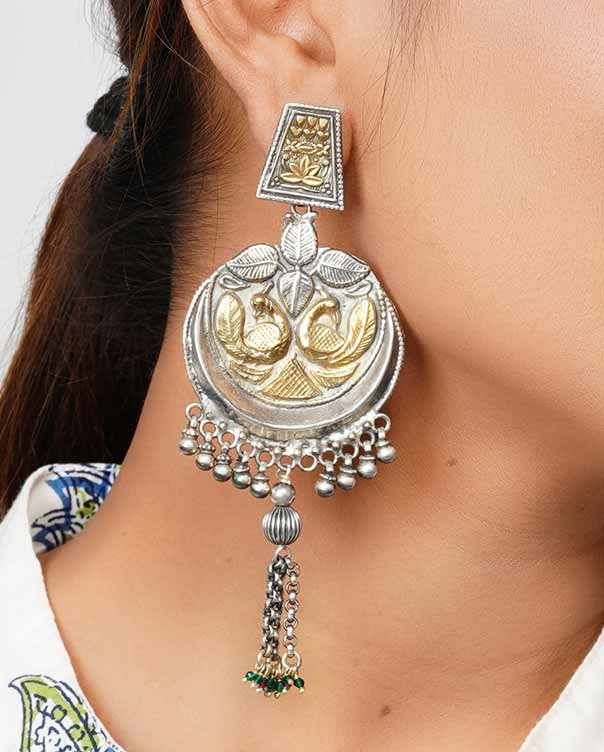 Finish with Graceful Hair and Makeup
Complete your lehenga saree look with hair, makeup and accessories that blend tradition with modern glamour:
Opt for side-swept loose curls or a messy braided updo.
Adorn your hair with gajra flowers or matha patti hair jewelry.
Do a dewy makeup base with defined eyes and bold red lips.
Swipe on that highlighter and keep the base glowy.
Opt for a small bindi with sultry smoky eyes.
Skip the heavy base makeup for a naturally radiant glow.
With polished hair and makeup, your look will be runway ready!
Elevate with Stunning Footwear
Don't neglect the footwear! Fancy embroidered juttis, embellished mojaris and embroidered kolhapuris add royal flair. Other options:
Ornate khussas with mirror-work and zardozi
Feminine stiletto heels in a matching hue
Block heels adorned with sequin or beadwork
Metallic or lustrous finish shoes
Stay clear of bulky shoes that distract from the lehenga. Let the embellished footwear be the finishing touch.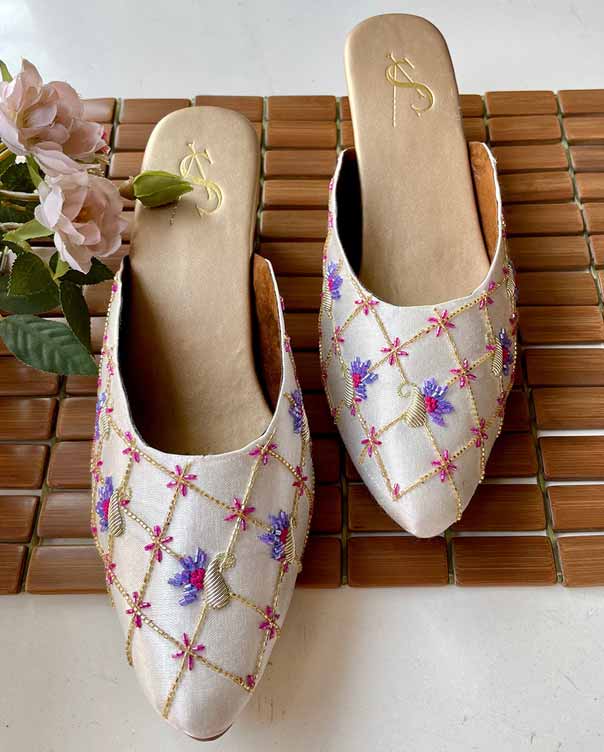 Prep Like a Pro Before the Event
Looking flawless in your lehenga saree takes some strategy:
Do a trial run at home to test the draping and pleating.
Make sure you can comfortably walk, sit and dance without any wardrobe malfunctions!
Learn how to tuck in stray dupatta or skirt fabric so it stays secure.
Consider adding modesty snaps or spare pins for extra hold.
Press and steam the lehenga saree until any wrinkles are smoothed out.
Time your dressing so the pleats are freshly done right before the event.
With smart prep, you'll avoid any last minute lehenga saree disasters!
Exude Confidence as You Slay the Look!
This last tip is key – when you feel confident in your lehenga saree, it shows! Some ways to boost your confidence:
Strike those power poses before heading out!
Get inspired by browsing lehenga saree looks on Instagram.
Arrive early to get comfortable before the cameras start clicking.
Imagine you're floating down the runway owning the look!
When heads start turning, remember you are slaying it!
If you feel amazing, it will shine through. Rock it like royalty!
Rock the Runway Vibes
Channel your inner supermodel and work it!
Strut your stuff like you're on a catwalk – shoulders back, head held high.
The aura of confidence you exude takes any look to the next level.
Set the Dance Floor on Fire!
Wait for that perfect dance number and let loose!
Twirl, swoosh and shimmy to your heart's delight on the dance floor.
The lehenga saree is meant to move and groove in! Show off your best moves.
Turn Heads with Your Dazzling Style!
You know you're slaying it when all eyes turn your way!
Relish the compliments coming your way – you earned every one.
Channel the inner diva and let your lehenga saree shine bright!
Be an Expert in No Time
With these 12 pro-approved tips, lehenga sarees will feel far less intimidating and confusing to wear. You'll know how to find the perfect materials, tailor it impeccably, accessorize just right and drape flawlessly.
Showstopper Style Awaits You
Most importantly, when you exude confidence and own the lehenga saree look, you'll truly mesmerize everyone with your sensational style!
Countdown to Your Best Look Ever
I can't wait to see you slaying lehenga sarees and stealing the show at the next wedding. Go out there and absolutely own it!